OBT is live!
---
We want to thank everyone who has supported our project on this journey - tested new features in the early stages, reported shortcomings and shared ideas with developers. Thanks to your participation, we have managed to create an exciting MMO-action game with many PvP and PvE modes and incredible freedom in the design of combat vehicles.
In the past year alone we have added the following to the world of Crossout:
9 new post-apocalyptic locations: abandoned cities, deceptively lifeless deserts, highways full of dangers, fortified survivor settlements and other regions of the world that survived the catastrophe.
7 new game modes: survivors protect trade convoys from raiders, rob warehouses and destroy oil rigs or try to defeat Leviathans, huge steel monsters created by other players. In between the ruthless battles raging across the world, you can now catch your breath in 'Race' mode, where vehicles have no weapons, where only speed matters.
New components and weapons: a flamethrower for immolating your enemies, a precise and ruthless pulse accelerator, a powerful armour-piercing crossbow and other novelties.
The beginning of OBT will bring even more content to the game. It will add a fifth faction 'Steppenwolfs' to the game — former soldiers, who prefer to solve any issues with the help of well-armoured vehicles and long-range cannons. Also a new location 'Disaster area' will become available — a mysterious place, covered with sand and stones, where survivors can find the remains of an aircraft carrying particularly important artifacts.Read more about all the new features in the changelog.
The start of open testing does not mean that development is complete. Crossout is a multiplayer project that lives only for moving forward and constantly evolving. We are still working on new factions with unique features and mechanics, new locations in the most remote corners of the post-apocalyptic world, new exciting modes and much more.
In gratitude for our players contribution to the project's development, we have prepared special gifts for each and every one of you that will allow you to stand out on the battlefield. They will be waiting for you in the warehouse after the account reset. Also, all previously purchased packs will be returned to the players.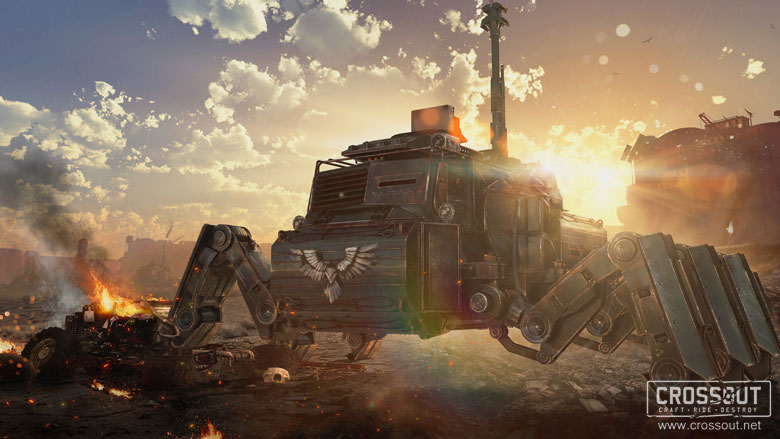 Download Wallpaper: 1280x1024 | 1920x1080
---