About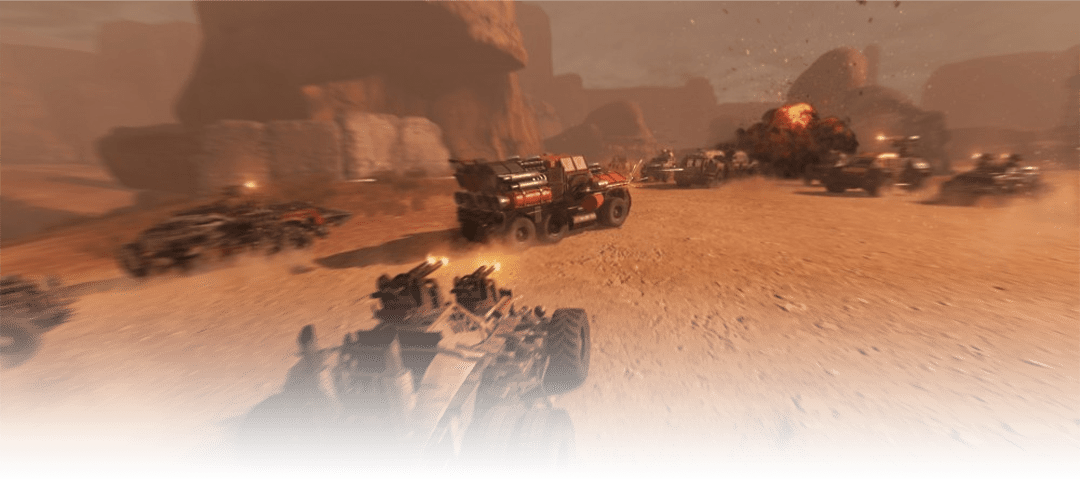 Crossout is the post-apocalyptic MMO Action game! in which you can craft your unique battle machines from a myriad of interchangeable parts, ride them directly into combat and destroy your enemies in explosive PvP online battles!
Key Features:
Unique vehicles, crafted by players using a wide range of available parts: from nimble buggies to heavily tracked off-road vehicles or combat platforms on antigrav fields.
Complete freedom of creativity and thousands of possible combinations: Create vehicles of any shape using a wide range of parts, with a wide variety of armour and weapons to help support your arsenal.
Advanced damage model: destroy any part of an enemy vehicle and it will affect the machine's performance immediately.
A huge arsenal of weapons: From chainsaws to power-drills, machine guns to rocket launchers, and a wide range of variety including flying drones and stealth generators.
Your own workshop: create new and advanced parts, and auction them at the in-game marketplace.
Trading options between players: every piece that you have gathered in battle can be sold to other players.
Choose your own battle strategy: Apart from victory, the only thing that matters is your Survival!
Factions

Factions are one of the most essential aspects of the game. They help the player get stronger by supplying them with parts and weapons. Each faction has its own gameplay features and story.

More about factions
World map

The world of Crossout is enormous. It has deserts, destroyed cities, abandoned factories, and mysterious, unexplored areas. All available locations are displayed on the world map.

More about the map
Clans

It's difficult to survive alone when the entire world you once knew has been virtually destroyed. Clans are groups of players who fight together, enter tournaments, and hang out.

Learn more about clans and competition among them
FAQ
1. What is Crossout?

Crossout is a post-apocalyptic MMO Action game, where players can craft their unique battle machines from dozens of interchangeable parts, ride them into combat and destroy their enemies in explosive PvP online battles.

2. What is my goal in Crossout?

The game's motto "Сraft – Ride – Destroy" shows exactly what players will be doing in the game. The goal is to create a perfect battle vehicle, equip it with weapons and then take it into battles with other players.

3. How many classes are available in Crossout?

In Crossout there are no classes. Players are able to create any kind of vehicle they want, using dozens of different parts, a wide variety of armour and weapons as well as support systems.

4. Is the Crossout account united to the ones in War Thunder and Star Conflict?

Yes, these are the games from the same company. A united account for all the games should be authorized at https://gaijin.net to play any of these games.

5. What modes are available in Crossout?

At the moment there are PvP battles that can be played solo or in teams up to 8 players. There are also PvE modes for groups of 3-4 players.
6. Will I be constructing the vehicles myself?

Yes, vehicles are constructed by players all by themselves from different parts.

7. Will there be any flying vehicles?

Not at the moment, however, the hovers mounted on the vehicle allow it to soar above the ground

8. Will there be a cabin view?

Not planned at the moment.

9. How is the durability (health) of a vehicle calculated?

The durability depends on the parts used for construction and the characteristics of a cabin.

10. How is the damage system realized?

In Crossout we use an advanced damage system, which allows players to destroy any part of an enemy's vehicle. To kick an enemy out of the battle, you'll need to destroy his vehicle's cabin. But even this is not that necessary. Shoot out his wheels and weapons and leave him lying on the ground defenseless without any chance of changing the situation. That's why while constructing a vehicle keep in mind that you can lose almost everything. So defend the most vital parts, duplicate mechanisms to stay alive longer.

11. How does the destruction of a vehicle look? Will there be a burnt out frame of my ride left on the field?

The destroyed vehicle will vanish from the map. But during the battle you'll see wheels, weapons and armour coming off the vehicle.

12. How can I get new parts?

Parts can be earned in battles, issued when faction levels are reached, crafted from simple parts or bought in the game market.

13. Will players be able to trade with each other?

In the game, there is a market where players can buy and sell different parts and resources.

14. I've seen vehicle characteristics in a screenshot. What do they influence?

These are the current characteristics of your vehicle. They influence the number of parts you can use for constructing, the weapons and modules you can add to your vehicle.

15. Can I construct a big truck?

Yes, you can build a giant vehicle, but it will be heavy and will move slowly.

16. What are the age ratings of Crossout?

Age rating is 12+ and 13+ for the USA.

17. Will Crossout be distributed with a subscription business model?

Crossout is a free-to-play game.

18. Who is the developer?

Crossout is developed by Targem Games in collaboration with Gaijin Entertainment.

19. Which platforms is Crossout be available on?

Crossout is available on PC, Steam, PlayStation 4 and Xbox One.

20. What are the system requirements for Crossout?

21. Will the game have steering wheels support for controlling the vehicle?

Not at the moment but you can use gamepad.

22. Are you planning to add new game modes in the nearest future?

Yes, Crossout - is a rapid-developing game. We are constantly developing new content, including new game modes.

23. I have an idea how to improve the game, how can I deliver it to the developers?

If you have any ideas how to improve the game, you can post it on the game forum in the Ideas and suggestions category. We would gladly discuss them with you.