Interactive parts. Horns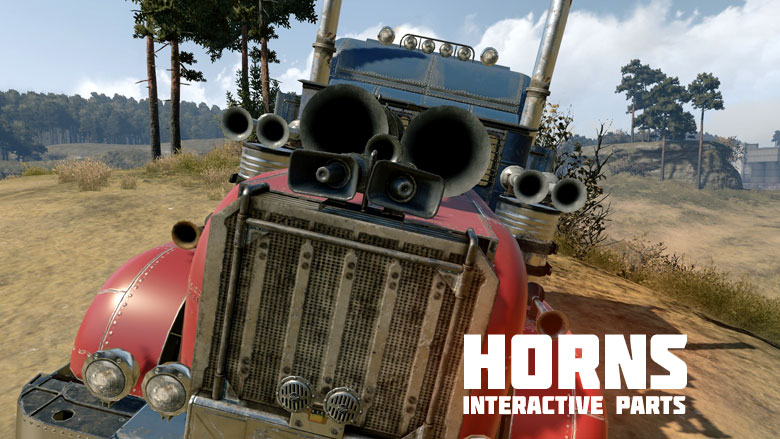 In the latest Crossout update 0.3.14 we are adding a number of new decor elements. These are interactive parts — 'Horns', each has its own unique sound and will further help you stand out on the battlefield.

Each item not only has a unique sound, but also additional bonuses. Due to numerous player requests, all new decor items will be featured in news updates in the form of 'coubs', where you can hear how they sound.
'Pull over' Horn
Even the toughest drivers can't resist the urge to turn right when they hear this sound.
Rarity: epic
Increases post-battle reputation gain by 3%

'Express' Horn
Evokes nostalgic memories of a railway crossing.
Rarity: epic
Increases post-battle reputation gain by 3%

'Joker' Horn
Humour works in any situation, doesn't it?
Rarity: epic
Increases post-battle reputation gain by 3%

'Full House 2' Horn
It's hard to overestimate surprise factor in combat.
Rarity: epic
Increases post-battle reputation gain by 3%

'Oliphant' Horn
Mimics a lonely mammoth's mating call. Or a massive truck's signal.
Rarity: legendary
Increases post-battle reputation gain by 4%

'Buzzer' Horn
Size doesn't matter!
Rarity: legendary
Increases post-battle reputation gain by 4%

'Cucaracha' Horn
A triple blow to the enemy's nerves. Or an ally's...
Rarity: legendary
Increases post-battle reputation gain by 4%

'Potemkin' Horn
Serious hardware for serious people.
Rarity: legendary
Increases post-battle reputation gain by 4%

'Titanic' Horn
This sound shatters the final pieces of glass in windows and maybe even melts ice.
Rarity: legendary
Increases post-battle reputation gain by 4%