Rebuild in Crossout: Ducks of the Wasteland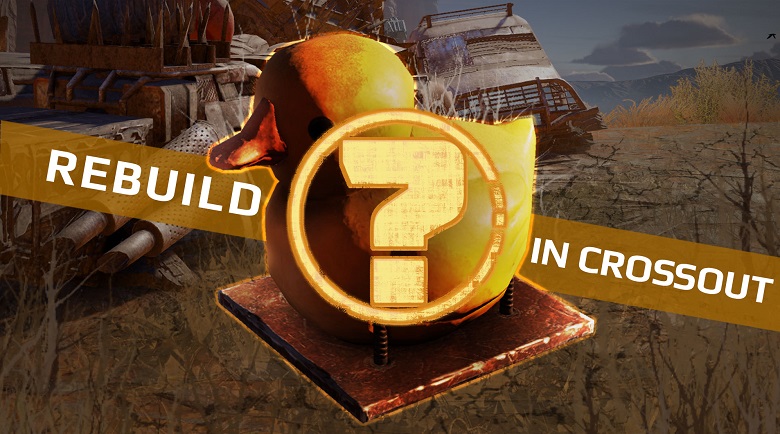 Not so long ago, the Wasteland survived the invasion of cats so it would be inappropriate to ignore the main talisman of the Crossout world — ducks. Like last time, we offer you to diversify the steel fauna of the Wasteland and fill it with a flock of real postapocalyptic ducks. Of course, first of all, we are going to evaluate the appearance of your duck, but you should not forget about the combat effectiveness! The invasion of cats, then ducks... can you smell a battle coming?
So, the task is: build a true duck of the Wasteland. The main condition is that the craft has to look like a real duck and have at least 1 gun.
The top 8 entries will be selected in total. Of them:
3 lucky survivors, selected at random, will receive a unique non-tradable "Rewarduck" decor. In addition, they will get 1000 coins for the maintenance of their steel pet.
The remaining 5 winners will receive 600 coins and non-tradable decor: "Duck".
In addition, among all the participants, we will randomly select 15 lucky ones who will receive a scanner for 3 days!
To participate in the contest you need to:
Build your craft in the shape of a duck, which absolutely has to be self-propelled. The duck also absolutely has to have combat capacity. At least 1 weapon has to be installed on the craft.
Upload the craft to the in-game exhibition. The name must start with the tag 1505.
Post a screenshot of your creation on VK or Facebook with the hashtag #DuckXO and indicate the name of the craft at the exhibition.
Specify your nickname and your platform.
Build your entry in the slot for a car or a leviathan.
The armoured car must be functional.
Only one entry is accepted from each participant.
The entry cannot contain offensive and Nazi symbols, obscene language, references to prohibited groups and societies, elements of erotic content or in any other way should not violate the rules of the game.
By participating in the contest, you consent to the use of your work at our discretion.
Attention! Entries are accepted until May 21, 12:00 GMT. Results will be announced within a week after entry admission is concluded.
Good luck in your work and on the battlefield!
---