Deal of the Week: discounted Catalina (PC) and Patron (Xbox) deluxe edition packs + premium subscription as a gift!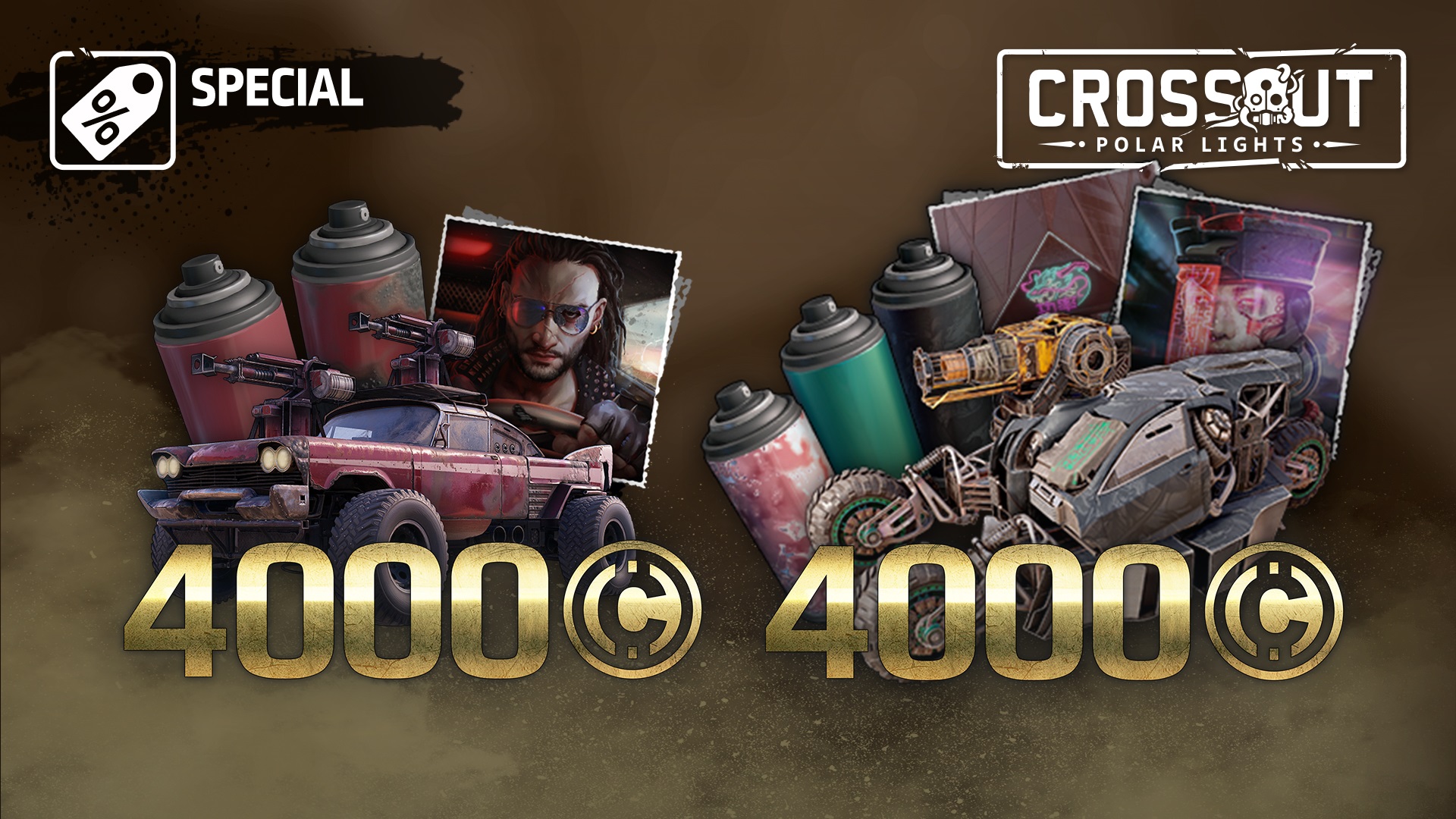 Hello, survivors!
As a part of this week's special, the deluxe edition of the magnificent "Catalina" returns to the PC in-game store, and the deluxe edition of the "Patron" pack will return to Xbox!
Please note: the offer is valid from April 10, 12:00 GMT, until April 16, 23:59 GMT!
The packs are purchased with crosscrowns. Even if you have previously purchased the pack on your platform's store, you can re-acquire it for crosscrowns. In this case, you will receive all items that can be issued again. When purchasing the pack for crosscrowns, each player receives 3 days of premium subscription as a gift.
PC
Catalina (Deluxe edition)
Armoured car: "Furia";
Epic cabin: "Catalina";
Epic module: signal jammer "Daze";
Character portrait: "Jonathan";
Paint cans: "Burn" and "Lipstick";
Unique decor: "Tailfin" (2 pcs.);
Unique hologram: "Retribution fire";
A set of stickers;
Background and logo for profile customization;
Early access to structural parts of the armoured car;
Maximum number of parts increased to 40.
4000 in-game coins.
No one in the Engineers camp believed Jones that his car came to life and took out the raiders on its own. Most likely the armoured car was stolen by some maniac, who then destroyed those bandits. But the main thing is that the car is still seen in the Valley. And "Furia" is usually the last thing that the gaping survivors get to see at all.
Xbox
Triad: The Patron (Deluxe edition)
All players who buy the pack get a garage of the Syndicate as a gift!
Armoured car: "Cursed";
Unique cabin of epic rarity "Deadman";
Unique frontal wheel: "Claw" (4 pcs.)
Character portrait: "Jiangshi";
Paint cans: "Priming", "Nephrite" and "Breath of darkness";
Unique decor: "Short yellow lamp", "Yellow lamp", "Long yellow lamp";
Hologram: "Seal of authenticity";
4000 in-game coins.
Additionally, the player receives:
Unique background and logo;
Plasma cannon "Quasar" of epic rarity;
Structural parts of the Jiangshi's armoured vehicle;
Maximum number of parts increased to 65.
Jiangshi has a frightening reputation even by the Syndicate standards. Like the walking dead from the Chinese folklore, whose name he bears, this killer cyborg knows no pity, no mercy, no compassion, and can only bring death and destruction. Everything human was cut out of him a long time ago and replaced with the most advanced electronics available to the Syndicate. His dead eyes look impassively at the world, seeing only the order shining right in front of his face. The order he is incapable of resisting, being nothing more than an instrument. The executioner's axe, designed for the most dangerous enemies of the Syndicate. Rough, irresistible power and unlimited persistence of the living dead are his calling cards.
Jiangshi will complete the task and return with a victory. Unlike those who dare stand in his way.