Deal of the week: 2 tracked armoured vehicles with a 45% discount!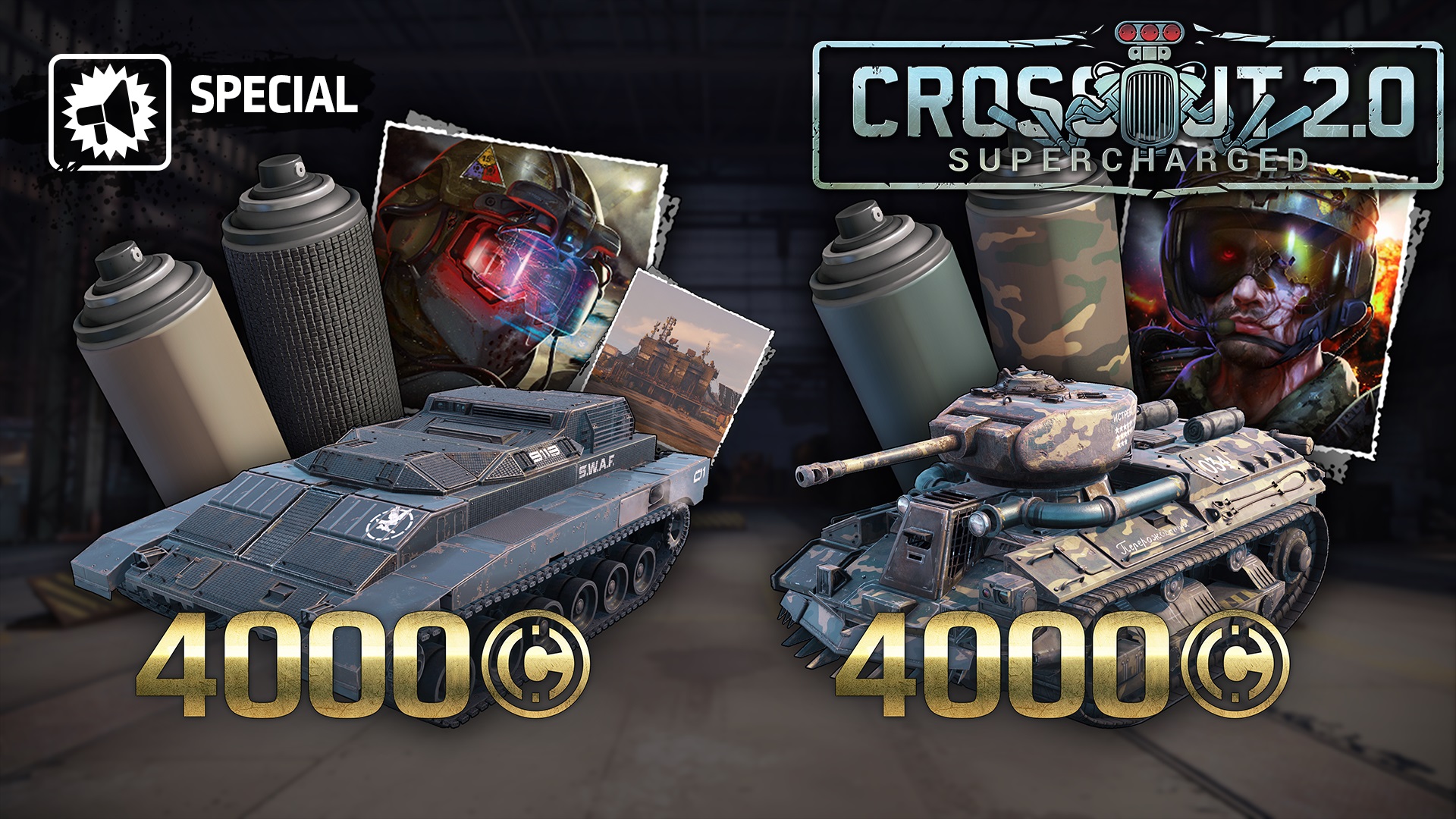 Hello, survivors!
This week, 2 elite tracked armoured vehicles received great discounts in the in-game store! Please note that the deluxe editions of both "Bravo-6" (with the Assault force garage) and "Fresh blood" (with the cannon "Elephant" and unique CK "Jumbo") are unavailable outside of special promotions. Don't miss your chance!
The pack can be purchased with crosscrowns on all platforms. Even if you have previously purchased the pack on your platform's store, you can re-acquire it for crosscrowns. In this case, you will receive all items that can be issued again.
Please note: the offer is valid from December 5, 12:00 GMT, until December 11, 23:59 GMT!
Assault force: Bravo 6 (Deluxe edition)
All players who buy the pack get a garage of the Assault Force as a gift!
Unique armoured car: "MBT";
Unique movement part: "Tank track" (2 pcs.);
Character portrait: "Bravo-6";
Unique paint cans "Rough sand" and "Dynamic armor";
4000 in-game coins.
Additionally, the player receives:
Unique background and logo for profile customization;
Decor: "Tank headlight" (2 pcs.);
A set of unique stickers;
Epic rocket launcher "Cricket" (2 pcs.);
Special cabin "Jawbreaker";
Maximum number of parts increased to 65.
Personal file No. 9113
Title: Captain
Operation call sign: Bravo-6
Specialization: tank commander
Due for military service in 2043
Evaluation:
A mechanical engineer, familiar with all pieces of military equipment and periodically improving his skills. After becoming the youngest graduate of the armor school, he acted as an instructor to his fellow cadets. He is a team player who listens to his subordinates and a good strategist, capable of making unconventional decisions during combat missions. Trained to use the AR interface and can coordinate the entire squad effectively with it.
Recommended for assignment to Operation "Return".
Fresh Blood (Deluxe edition)
Unique armoured vehicle: "Reborn"
Epic turret cannon "Elephant" with a unique CK "Jumbo";
Unique portrait: Sergeant Uzarsky;
Unique paint can: "Combat camouflage";
4000 in-game coins.
Additionally, the player receives:
Unique background and logo for profile customization;
Movement parts: "Armored track" 2 pcs.;
Rare cabin "Carapace";
A set of unique stickers;
Decor "Tactical log";
Maximum number of parts increased to 60.
By protecting the Scavengers' convoys from raiders, Mateusz had earned credibility not only with Scar AB, but also with Ironhand himself. And when he needed people for a dangerous punitive operation, he already knew who to call. A squad led by the tankman razed the den of raiders to the ground. But the fight was difficult. Wounded and stunned by explosions, he literally crushed the last enemies with the tank tracks. The cannon he had gotten from the Scar AB's storage did not survive the battle.
Major Stahl was impressed with Mateusz's combat skills and bravery. He invited him to become the "sheriff" of the Brotherhood territories near the Valley, to which the tankman agreed without hesitation. He was granted the rank of sergeant and allowed to use the Brotherhood's resources. Mateusz rebuilt his tank and organized his own brigade. Thus, hardened in many battles, Sergeant Uzarski stood up to defend civilian settlements against raiders.