The "Day of the Dead" and "Phantom: Deluxe edition" packs are temporarily available in the in-game store!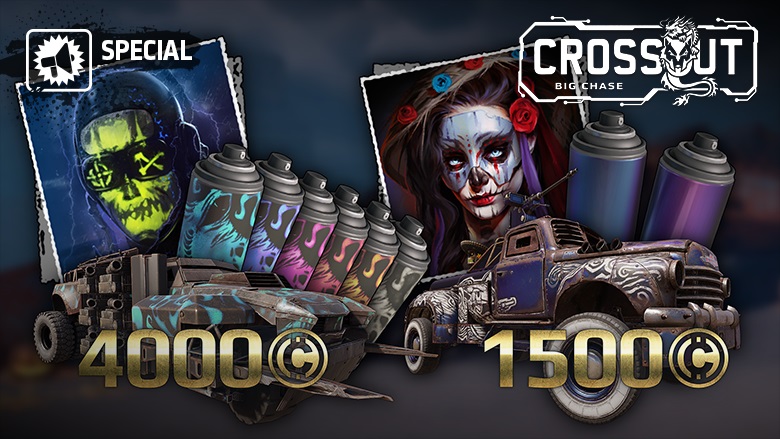 Hello!
At the end of October, we expect the release of anl update, which will include the "Witch hunt", a traditional Halloween activity in the Wasteland. Rumour has it that unusually designed armoured vehicles can be seen on the roads more and more often— it seems that the survivors have already started preparing for this event. It's time to get your own festive car and themed cosmetics!
This week, the "Day of the Dead" and "Phantom: Deluxe edition" packs return to the in-game store. Choose an armoured car and go ahead — spread fear and catch admiring glances!
Please note: the offer is valid from October 10, 13:00 GMT, until October 16, 23:59 GMT!
The pack can be purchased with crosscrowns on all platforms. Even if you have previously purchased the pack on your platform's store, you can re-acquire it for crosscrowns. In this case, you will receive all items that can be issued again. By purchasing each of these packs, you receive 3 days of premium subscription as a gift.
Day of the Dead
Unique armoured vehicle: "Stalker";
Character portrait "Catrina";
Unique decor "Diego";
Unique paint cans "Violet Gloss" and "Matte Ultraviolet";
1500 in-game coins.
Additionally, the player receives:
Rare automatic cannon "AC43 Rapier" (2 pcs.);
Rare cabin "Jockey";
Rare wheels "Stallion" and "Stallion ST";
A set of unique stickers;
Increases the maximum number of parts used to 55.
Years don't stop coming after the disaster, and time breeds new legends in the Valley. One of them is about Catrina. She used to be an ordinary person. But on the night of the disaster, she went searching for a missing friend, died in an accident and returned as a ghost to help lost souls.
Catrina picks up the lost in the Wasteland and drives them in her armoured car to the city, where the path is open only one month in a whole year. This is truly a wonderful place: gasoline flows boundless, raiders never attack, and you don't have to risk your life fighting for every handful of scrap metal. Yet, you can't get out of the city, and those who get inside will remain there forever.
Phantom (Deluxe edition)
Unique armoured car: "Phantom";
Unique epic cabin "Dusk";
Epic rocket launcher "Pyre" (6 pcs.);
Unique structural parts "Phantom";
6 paint cans of legendary rarity;
4000 in-game coins.
Additionally, the player receives:
Character portrait "Mirage";
Epic engine "Hot red";
Epic module "Expanded ammo pack";
Special module "Ampere";
Special radar "Maxwell";
Special module "Chameleon".
Special wheel "Array ST" (2 pcs.);
Special "Twin wheel ST" (2 pcs.);
Unique banner background and logo;
Maximum number of parts increased to 60.
The semi-mythical "Phantom" armoured car crosses the Valley every autumn, and it vanishes just like it appears — without a trace. No one knows the true story of the invisible driver. Some say that he is a soldier who strayed from his squad, still looking for his comrades. Others — that he is a scavenger, who disappeared under the rubble and who continues to search for something in the ruins of an abandoned research institute. Among the survivors, he is known as Mirage, and he can be recognized by the mask glowing in the dark of the cabin. To meet Mirage is a bad sign. Should the collector see any value in your hardware — you will never be found.