Crossout Update 0.7.10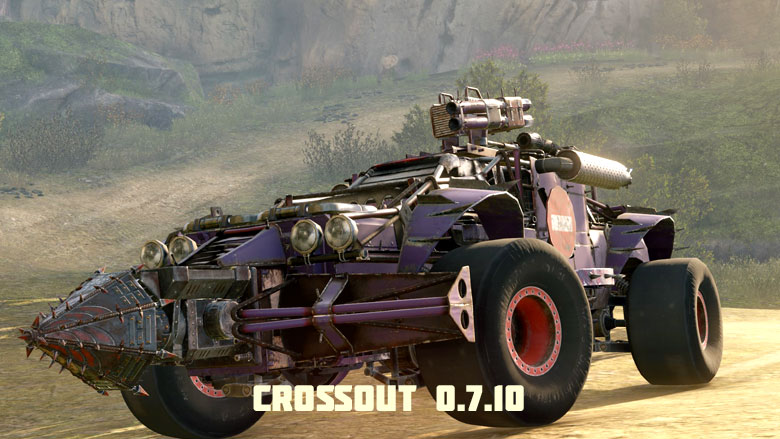 Survivors! In this update, we added new kits for changing the appearance of your weapon and the armored car assembly mode in your garage has been significantly improved. And, finally, what all the players expected so eagerly — now you can enable / disable in-game chat.

System for changing weapon appearance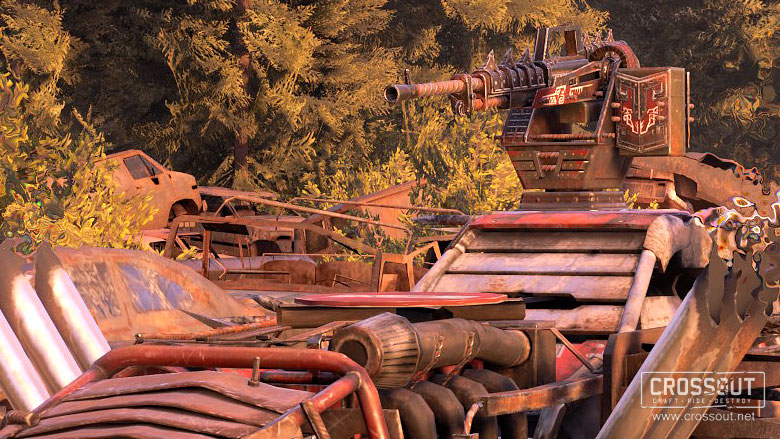 Added new customization kits. The changed item can not be sold:
CK Jaws

Rarity: common.

Changes the appearance of 'Little Boy 6LB'.

CK Dharma's Umbrella

Rarity: common.

Changes the appearance of 'Auger'.

CK Bloodsucker.

Rarity: rare.

Changes the appearance of 'Spectre-2'.

CK Rumble.

Rarity: legendary

Changes the appearance of 'Reaper'.

CK Guardsman.

Rarity: common.

Changes the appearance of 'Avenger 57mm'.

CK Direwolf

Rarity: common.

Changes the appearance of 'MM5-4 Vector'.

СK Killer

Rarity: epic.

Changes the appearance of 'Druzhba 2'.
Game Modes
Seasons
Now the medium and hard difficulty seasons' missions are bound to the weapon of the fraction that is shown on the cover of particular season.
The season missions will be changed, but the progress will be saved.
Raids
Cargo Race
Increased the time needed to pick up the cargo.
Parts
Equipment
Drones, turrets
The maximum number of launches has been added to the module description.
Maps
Desert Valley
Interface
Co-drivers​
It's you and only you behind the wheel. And your loyal friend and helper is right next to you.
"Drivers" are renamed to "Co-drivers"
Build mode
Assembly has never been so convenient!
Now in build mode, all parts are always positioned along an invisible three-dimensional grid.

Added the option to center the car in the garage.

By default, the function is assigned to 'T'.

On activation the cabin is placed in the garage's geometric center.
Debriefing
Improved window appearance.

Added the sound of a completed task.
Controls
Improved control settings for gamepads.
Chat
A function that everyone has been waiting for.
Now by default the player is not in chat.
Added a special button 'Chat settings' in the form of a gear to the right of the chat interface.

When the button is pressed, the player can select the chat channels in which he wants to be. In the same way, you can turn off the channels.

Initially, only the general channel is available, but we plan to develop the chat interface and add additional channels.

Improved chat stability.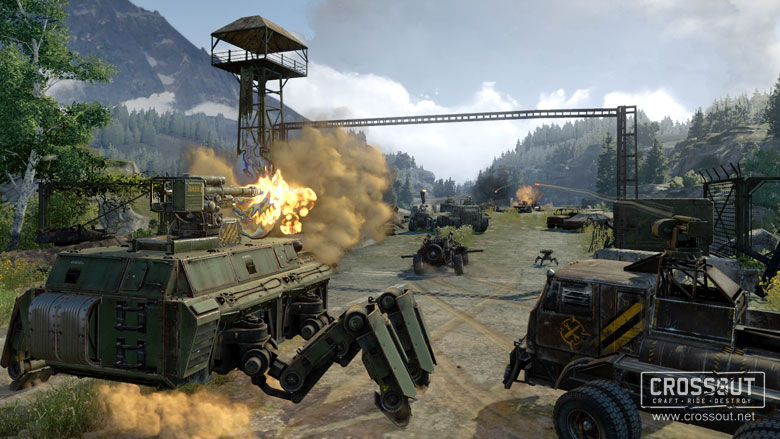 Miscellaneous
Added a condition that prohibits the installation of more than 1 engine per machine to descriptions.

Improved explosion effect upon self-destruction.

Added sound for filling the gas tank.

Improved a number of text strings.

Optimized the Exhibition.

Improved tutorials.

Added the possibility to set render scale.

In video options appears a slider, that can be set to values from 50% to 200%.
Default setting - 100%.
Bug fixes
Fixed a bug with shadows overlapping with some parts.

Improved truck behaviour in 'Escort' mode.

Indicators of range and rate of fire for a number of guns and missiles have been adjusted.

Fixed a bug with issuing a reward on the return of a Leviathan from a battle.
This patchnote reveals all the key in-game changes and doesn't include all the fixes. Changes, that are aimed at improvement of Crossout, appear constantly and may not require their own patch.
---