Rewards for everyone who participated in the project testing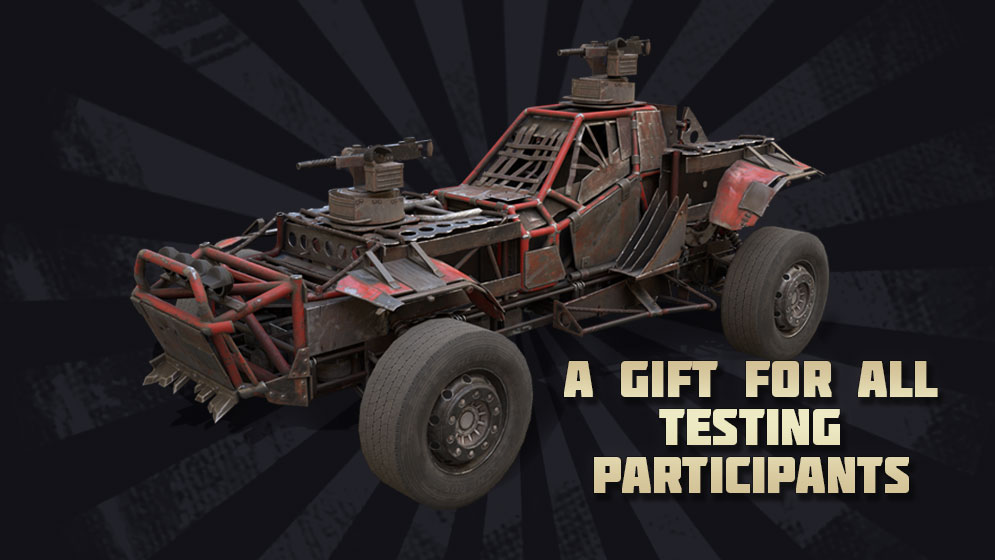 Very soon our project will move into a new, extremely important and demanding stage — open beta testing. It has been quite a long journey, going through the internal testing of the game, alpha testing, battle tests and closed beta testing of the project. We would like to thank everyone who took part in all the game testing. And after the start of OBT, we want to present small, but valuable gifts directly to the players who helped us.
A gift for all testing participants
All participants of the testing - those who participated in the alpha test, battle test and CBT - will receive a reinforced armoured vehicle 'Snappy', built around a unique cabin 'Duster'. This is a memorable gift, which will immediately make all test participants stand out in battle.
A gift for all CBT participants
| | |
| --- | --- |
| | In addition to the armoured vehicle, all participants of closed beta testing will receive a unique paint can with 'Material: Snake' and a hero portrait 'Otherkin'. |
A gift for all Battle Test participants
| | |
| --- | --- |
| | In addition to the armoured vehicle, which we mentioned above, all participants of three stages of the Battle Test will receive the same gifts as participants of CBT plus an additional unique paint can 'Pattern: Tribal' and hero portrait 'Die Hard'. |
A gift for participants of the Alpha Test
| | |
| --- | --- |
| | The very first survivors who helped us make the game better were the participants of alpha testing. Many of them became our assistants, game-masters, and moderators on the forum. All participants of alpha testing will receive an armoured vehicle, like the rest of the testers, all the gifts of CBT participants and Battle Testing, as well as a special paint can 'Material: Crash Tester' and an additional unique hero portrait 'Crash Tester'. |
Thank you for participating in the testing of Crossout so far, your feedback and opinions have been truly invaluable. See you on the battlefields, of the Crossout Open Beta!
All gifts will be given to players after the start of OBT!
---