Rework of the "Ghost" cabin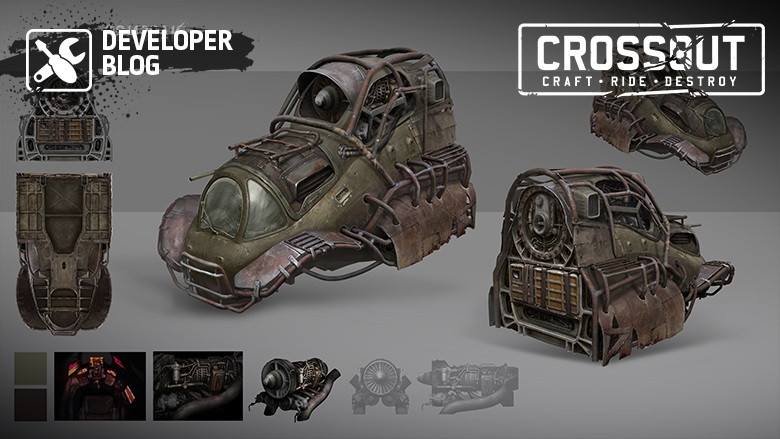 Hello!
Everyone who was expecting another blog about the upcoming season — don't worry. The next part will be released this week! Today, we would like to address a topic that has been a concern for many players for a relatively long time.
Attention! The model shown in this blog is still a work and progress and it may receive additional changes before being added into the game. A change to the cabin model is planned for the future, and it shouldn't be expected in the next update.
In this brief devblog, we'd like to share with you some current information on the refinement of the "Ghost" cabin from the "Spectral hunter" pack. Yes, that "helicopter cabin".
The main problem of the cabin that was almost voiced by its owners, was its unusual model. Its protruding front part made it impossible to effectively cover the cabin with structural parts, which had a direct impact on the survivability of the cabin on the battlefield and its popularity.
In the revised version, this part will be levelled and given its own welding points.
Another issue was connected with the general lack of welding points on important places. It was especially relevant for experienced engineers who think through their armoured vehicles down to the last minor detail. When the cabin is refined, the welding points will be added not only to its previously protruding front, but also on the edges of the existing points, as well as on the fenders, hood and sides of the cabin.
We are also aware of the opinion that the cabin may need a new perk that would increase the actuality of the "Ghost", but we don't plan to change the existing one yet. First, we want to evaluate how the new model will affect the usability and efficiency of the cabin, and only then will we discuss the need to change its perk.
Please note that changes to the cabin are not planned to be included to next update.
Share your expectations and feedback about the updated model of the "Ghost" cabin in the comments. Stay tuned for the upcoming third devblog about the new season!