New Features in Crossout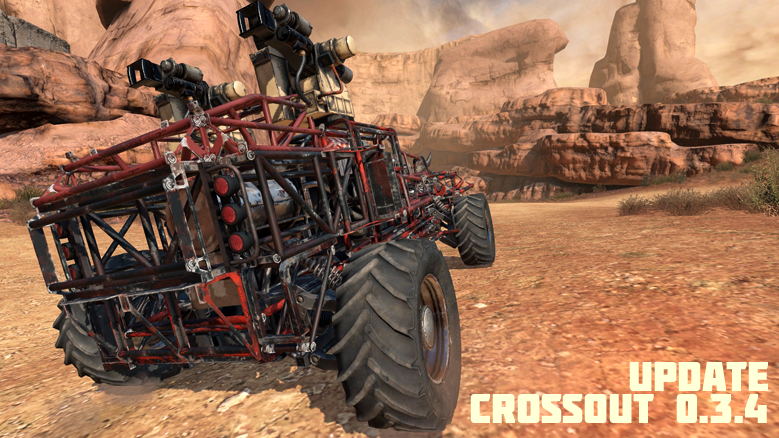 Hello, Survivors!
The Crossout Team has been immensely busy during the last days, weeks and months to get the maximum out of the game's Closed Beta. Another big update to the game has been released yesterday, and we believe that it's a great opportunity to share a bit about what's going on at our end.
We've heard a lot of feedback and ideas about new game modes from our testers, and have already responded to that by releasing the new PvE modes Convoy Escort and Heist a bit earlier this summer. With the new Update, a new PvP mode, Free for All, has now found it's way into the game - which is a true Deathmatch featuring unlimited respawns! Join with your favorite vehicle, be the first to destroy ten enemies and take home your righteous loot!
Another feature that's new is Item Fusion, which allows you to combine three identical items to generate a new one that has a random effect added or stat improved. So, for example, you can combine three 88mm Cannons to create a single improved one, featuring e.g. increased damage, an added chance of replenishing ammunition after a successful hit, or other effects that will make your weapons and modules more unique and powerful. We have been very creative with the possible effects that can be added through Item Fusion, and are looking forward to your feedback on the ones you like the most, as well as your ideas and suggestions. Almost any weapon and module in the game can be improved in some way using this method and you can also use it to combine paint cans to get rarer colors to paint your vehicles.
Additionally, after looking into our internal statistics as well as our feedback, we've rebalanced many of the game's weapons and modules to make the game more fair. We've also been busy fixing any bug reported by our testers, as well as implementing more minor adjustments and improvements. The Closed Beta has been immensely productive so far, and we are looking forward to continuing this approach until we can safely say that our game is ready for Open Beta - and the many new players coming with that.
We know that a lot of you are eagerly awaiting the release of said Open Beta and would like to reassure you that we're doing the best we can to make sure that happens as soon as possible during Q4 of 2016. Thanks for your patience - it'll be worth it!
And if you really want to get into testing right now, don't forget that you can get immediate access by purchasing one of the Content Packs available in our Store.
If you want to know more about the recent Update 0.3.4 to Crossout, read the patch notes here!
The Crossout Team
---