[PS4] [Xbox] The "Fresh Blood" pack is now available!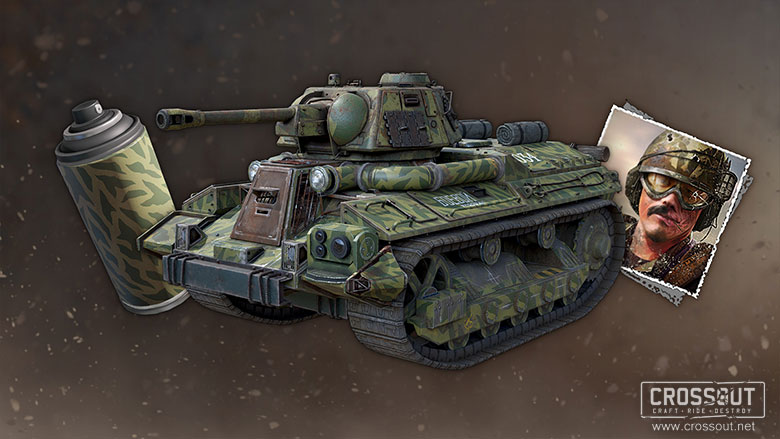 Survivors! The newest bundle "Fresh Blood" is already available for purchase in Microsoft Store! On May 8th, the bundle will be available in a number of PSN regions. You have a chance to purchase it until May 22nd!
Attention! In PSN Europe, the bundle will be available on May 16th. Follow the news!
The pack includes:
Unique tracked armoured vehicle "Risen".
Weapons: unique epic "Elephant" cannon.
Unique portrait "Mateusz Uzarsky".
Paint can "Forest Camo".
Unique decor "Tactical log".
1500 in-game coins.
Additionally, the player gets:
A set of unique stickers.
Unique cabin "Carapace".
Tracks of epic rarity "Armoured tracks", 2 pcs.
Increases the maximum number of parts used to 55.
People sharing the same idea are often attracted to each other. That's what happened with Mateusz too.
As a boy, he befriended complex mechanisms, disassembled them without instructions and put them back together from memory. When the world began to spin in a new way, he ran away from the military school to watch the world. From one of the vagabonds like him, he learned about Fyodor, the tank ace. After a long search, it turned out that the old man had a bad temper and he took no students. But Mateusz's will was stronger.
Year after year, Mateusz learned to handle heavy machinery, and the Tankman learned to communicate with people. He kept going away on more and more dangerous missions and raids. And when he was surrounded, he defended the hill next to the Fortress alone. For a couple of days, he patched up and upgraded Fyodor's faithful tank — the "Risen", and he did not give up the position.
Then Fyodor realized that the replacement was ready, and retired to Blood Rocks. And Mateusz rebuilt his tank, upgraded the design, brought a tower cannon from the reserves of Scar AB himself and came up with a camo scheme. This is how a generation changed on the dusty roads of the Wasteland. Old ideas with new strength. New weapons with the old spirit.
---