Rebuild in Crossout: March 8 (Results)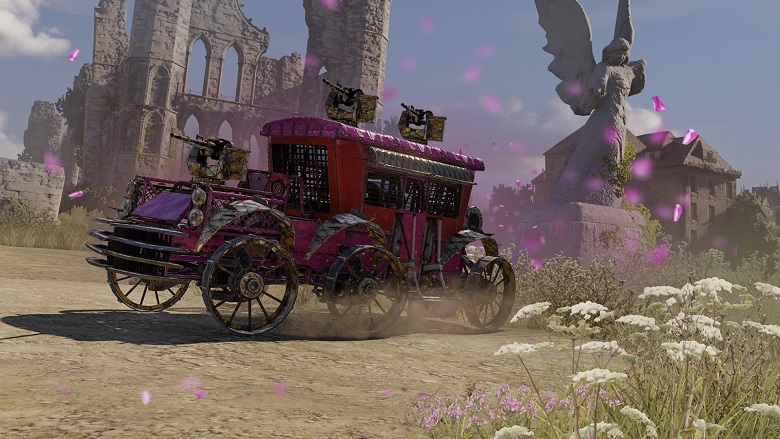 Woke up after a long winter hibernation? Then here's your workout, Crossout style!
Stretch.
Go through the dusty parts in your garage.
Get inspired.
Create!
*Remember to praise yourself.
This time we offer you to assemble a luxurious armoured vehicle specifically for March 8! But remember that in the world of post-apocalypse, cars must also be functional! Showcase your creative skills and entertain other players, and the top 8 entries we will get special spring rewards.
So, here's the task: build a luxurious and, at the same time, combat-ready self-propelled carriage.
The top 8 entries will be selected in total. Of them:
3 lucky survivors, selected at random, will receive the pack "Valentine's Day". In the event that the winner already has the pack, we will manually issue all its contents, except for the portrait and structure parts.
The remaining 5 winners will receive 600 coins and new unique stickers: "Hearty Cat", "Vampira" and "Hard candy".
In addition, among all the participants, we will randomly select 20 lucky ones, who will also receive "Vampira" and "Hearty Cat" stickers.
To participate in the contest you need to:
Build your carriage-craft, which must be self-propelled and combat-ready.
Upload the craft to the in-game exhibition. The name must start with the tag 0803.
Post a screenshot of your creation to VK, Facebook, Twitter or Instagram with the hashtag #8thXO.
Specify your nickname and your platform.
Build your entry in the slot for a car or a leviathan.
The armoured car must be functional.
Only one entry is accepted from each participant.
The entry cannot contain offensive and Nazi symbols, obscene language, references to prohibited groups and societies, elements of erotic content or in any other way should not violate the rules of the game.
By participating in the contest, you consent to the use of your work at our discretion.
Attention! Entries are accepted until March 12, 15:00 MSK. Results will be announced within a week after entry admission is concluded.
Good luck with your entry and on the battlefield!
---
Results
Survivors! The results of the contest are here. Congratulations to all the participants!
8 works, chosen by the jury:
As a result, with the help of a random number generator, the lucky owners of a new set of "Valentine's Day pack" were chosen! They are the authors of the following works:
0803QueenChariot
0803 KARETA
0803 Hoversmaga
Other participants receive 600 coins and unique stickers: "Hearty Cat", "Vampira" and "Hard candy".
A list of works selected at random that receive unique "Vampira" and "Hearty Cat" stickers:
0803 HELLRIDE
0803_LoveMachine
0803_HEARTER
0803_LoveKat
0803_kareta_0803
0803_povozka_Z
0803 Edem Ha Bal
0803 КАРЕТА
0803_K_KaReTa
0803 kareta74
0803DerpCarriage (Xbox)
0803 Kareta DEDa
0803_UFO_TELEGA
0803 Rafaeloreta
0803 NaBall BEL
0803 Nezhnost
0803 LOVE
0803MAPTKOHb
0803_PC30_LoVeLy
0803Kareta
The rewards are going to be sent within the several wor king days. Thank you for participation!
---