[PC] Crossout 0.8.10 Witch Hunt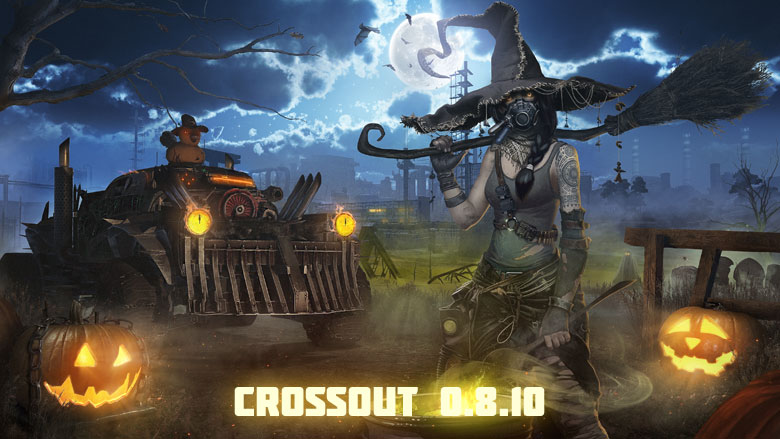 Halloween in Crossout!
Survivors honour traditions of the past. In the second half of October Halloween comes to Crossout! During the celebrations the game will get a new brawl, unique decor elements, and a portrait! The event will last until November 9.

New brawl 'Witch Hunt'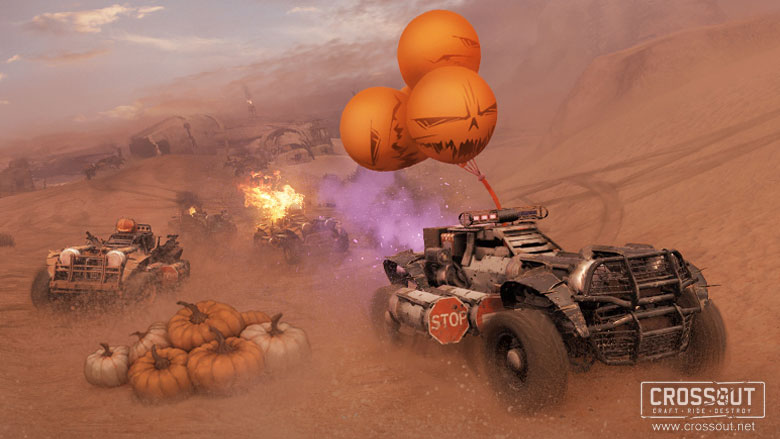 It's time to add some merry chaos and festive madness! On the eve of Halloween, Ivy invites survivors to participate in a special contest. The winner is the one who can hold the festive balloons for the longest time and earn 100 points. You will be offered pre-made blueprints with accelerators and without weapons. It's easy to take festive balloons from the enemy (at first glance): you only need to crash into his craft with your craft. But how to do it — catch the enemy or outwit him — is up to you.
Witch Cauldron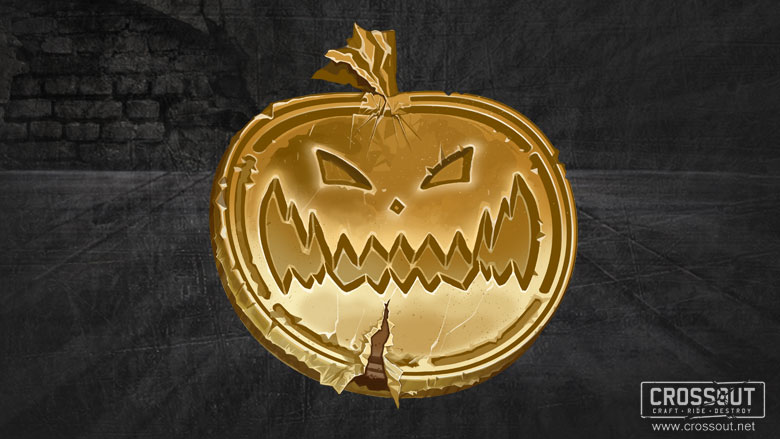 Added a new temporary resource — 'Hazardous Sweets'

'Hazardous Sweets' can be sold and bought on the in-game market.
'Hazardous Sweets' can be earned in any PvP-battles (1 sweet for victory) or by completing daily tasks.
If at the start of the event the number of simultaneously available daily tasks has reached the limit, the player can reset one of them and get a new mission with 'Hazardous Sweets' as a reward.
At the end of the in-game event, all unused sweets will be removed without exchange for resources.
In exchange for sweets, you can get a festive container from the Witch of the Valley with unique decorative parts.
Added a new temporary workbench 'Witch Cauldron'.
On this workbench you can exchange 'Hazardous Sweets' (200 units), scrap metal (800 units) and copper (50 units) for a special 'Fright Container', and when you open it you can get unique decor and paints.
What exactly is inside the 'Fright Container' is a surprise. But the Witch accidentally hinted that it could be:
'Crazy exhaust'.

Decoration.
Rarity: rare.
Increases post-battle reputation gain by 2%.

Paint 'Nocturnal Hunter'.
Paint 'Easy target'.
Paint 'The Harvest'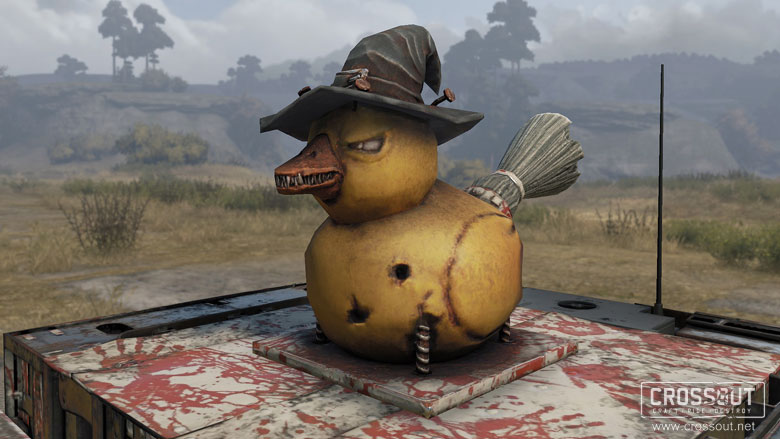 Decor 'Horror Show'.

Decoration.
Rarity: epic.
Increases post-battle reputation gain by 3%.
Even a seemingly innocuous duck turned into one of the new symbols of the holiday. Now she will inspire fear into all your opponents in battle!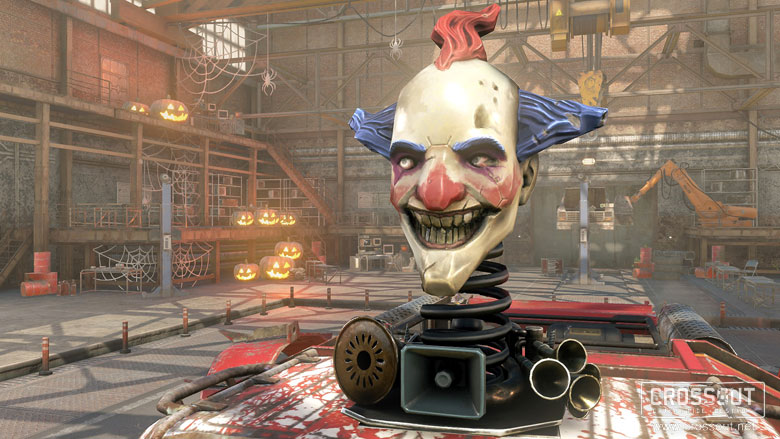 'Why so serious?'.

Decor. Horn
Rarity: epic.
Increases post-battle reputation gain by 3%.

'Hearse Horn'

Decor. Horn.
Rarity: epic.
Increases post-battle reputation gain by 3%
'D minor'

Decor. Horn.
Rarity: epic.
Increases post-battle reputation gain by 3%.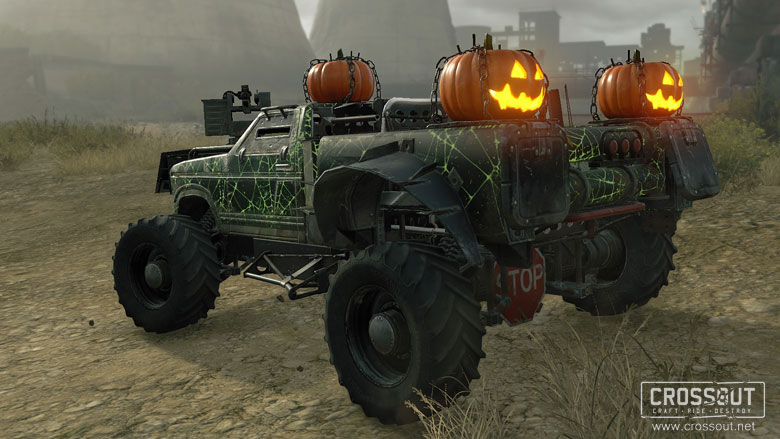 Jack-o'-lantern.
Decor. headlights.
Rarity: legendary.
Increases post-battle reputation gain by 4%.
What kind of Halloween is it without festive pumpkins? Now you can mount them on your armored cars, marking the coming of the Day of All Saints! Pumpkins not only drive away evil spirits, but also light the way — they work like lights.
'Pumpalloons'.

Decor. Sign.
Rarity: legendary.
Increases post-battle reputation gain by 4%.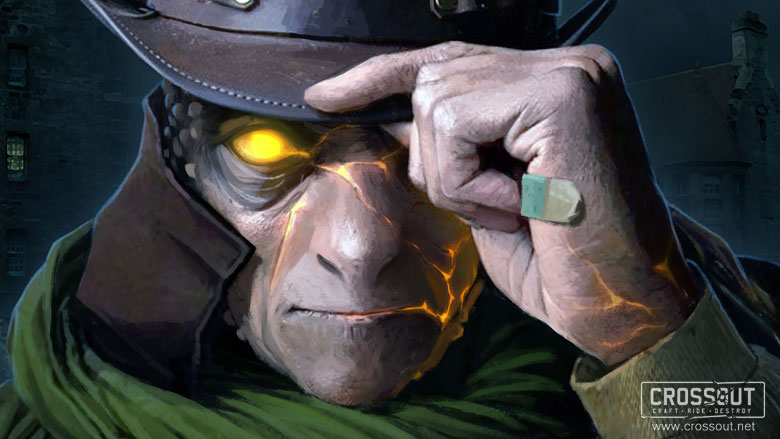 In addition, during the holiday players will be able to get a unique portrait 'Dr. Hyde'. Hyde always avoided people and was not burdened by it. But soon after the disaster, his memory began to fail him. And when he came to his senses, new injuries appeared on his hands, as if he had been trying to dig the earth with his bare hands. Hyde realized that after every attack there was less humanity in him, and, in order not to turn into a monster, he began looking for a cure.
This is why he came to the Valley.
The portrait can be obtained after completing 10 battles within the special assignment.
New map 'Sector EX'
Attention! The map is only available in PvP mode 'Encounter'.

This unfinished outpost on the city outskirts never raised much interest among the raiders. Only the select few knew about the existence and true purpose of Sector EX — to serve as a cover for an underground laboratory.
Before the catastrophe, the builders managed to construct an underground bunker, but the building itself was never finished. After 20 years, nature has won the construction site back, and there's little left from a once-solid structure. Only fortifications stood the test of time, still serving as a serious obstacle to Sector EX. This, the name behind the place, and occasional broken turrets lead to the idea that the territory was once under the watchful control of the military. Although the witnesses of those events can not be found, and no one will take it for granted. The rusted ruins still keep their secrets.

In a gathering at the bar someone lost information about the location of Sector EX in a card game. And the next night, armed groups found each other there, so that the secrets of the underground laboratory could be left to one of them...
Factions
Engineers
The Engineer Workbench (rare parts) can now be rented for production of 1, 5 and 10 parts.
Game Modes
Raids
Now, with an insufficient number of raid participants at the start of the battle (less than 4 people), the raid is interrupted.

Thus players do not receive any rewards and do not lose fuel.
Chase
Difficulty level: easy
Structure of trucks is reduced by 10%.
Structure of scavenger trucks is reduced by 30%.
Damage from kamikaze drones explosion is reduced by 50%.
Damage of escort vehicles is reduced by 20%.
Damage from barrels and mines is reduced by 50%.
Difficulty level: medium
Structure of trucks and escort vehicles is reduced by 20%.
Damage from trucks, escort vehicles, kamikaze drones, barrels and mines is reduced by 50%.
Difficulty level: hard
Structure of trucks and escort vehicles is reduced by 20%.
Damage from trucks, escort vehicles, kamikaze drones, barrels and mines is reduced by 50%.
Brawls
Big black scorpions
Now after a respawn the vehicle is invulnerable for 2 seconds.
Improved vehicle design.
Ranked battles
As part of the update, all player ratings were reset.
Now, before the start of each season, players will need to play 5 qualifying fights.

Until this condition is met, the player's rating will be invisible.
After 5 qualifying battles, the player receives a certain number of rating points, depending on the wins / losses in the qualifying battles.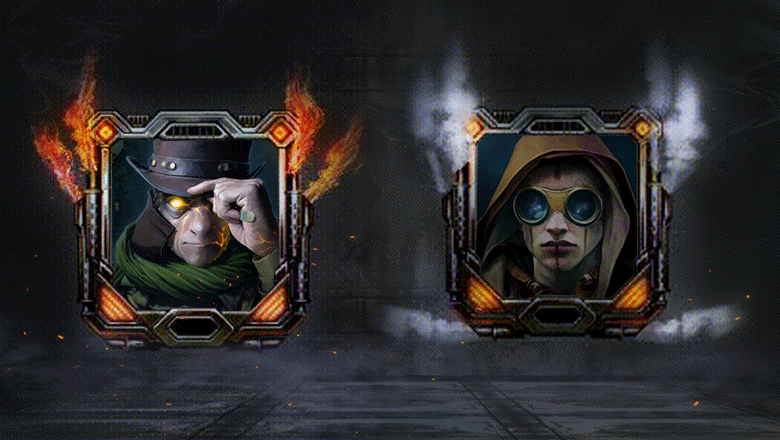 Added special animated frames for portraits for players occupying the top 100 places.

The survivor on top of the leaderboard will be highlighted by a unique frame accessible only to the Survivor who is currently in 1st place.
The remaining fighters in places 2 to 100 receive the second portrait frame.

The duration of ranked seasons has been increased to two weeks.
In the updated ranked system we have changed the thresholds for each league. Here is the list of leagues and the corresponding thresholds(in ascending order):

Wood: 800 - 1000 points.
Rust: 1001 - 1300 points.
Iron: 1301 - 1600 points.
Bronze: 1601 - 1900 points.
Silver: 1901 - 2200 points.
Gold: 2201 - 2800 points.
Diamond: 2801 - 3400 points.
Master: 3401 - 4300 points.
Challenger: 4301+ points.

Changed the threshold for participation in battles.Now it is 4500 PS.
Parts
Foundation
Frames
Appearance of light frames has been improved.
Movement
Hovers 'Icarus VII' and 'Icarus IV'
Now hovers get the correct amount of damage from all projectiles.
Developers comment: 'Previously, hovers absorbed a significant amount of damage from any projectiles.This change corrects the situation with excessive and unplanned 'survivability' of the hover.'
Now wheels, tracks and mechanical legs mounted on the armored car with hovers reduce cabin power.
Weapons
Missiles
Clarinet TOW
The sound of missile on approach is improved.
Drones
Now the 'Fuze' drones react to cars equipped with hovers.
Modules
Now it is allowed to install more than one scope.

If several scopes are assigned to the same key, then only the scope that was set first will work.

Now simultaneous installation of a scope and an invisibility module is allowed.
Decor
'Potemkin' horn
Miscellaneous
During the in-game event associated with Halloween, the garage will look different.
Improved a number of texts and descriptions.
Added sound effect to the 'Salvage' button.
Improved explosion effects.
Added sound effect for the 'Energy Shield'.
Added sound effects for the 'Neutrino' scope.
Added sound effect for mounting the turret.
Added a unique sound for 'Tsunami' projectile.
Improved the sound of turret destruction.
Now there is a chance of getting a shotgun 'KP2 Goblin' when opening the following containers:

Found in the Wasteland
Adventurer Container
Getter's Container
Wanderer's crate
Veteran Container
Miner's Container
Steel Cavalry Container

Now there is a chance of getting the 'Fuze' drone when opening the following containers:

Miner's Container
Getter's Container
Pathfinder's crate
Steel Cavalry Container

Improved controls when using the PS4 controller.
Minor interface improvements:

Added hints for a number of interface elements.
Added item 'Characteristics' in the tradeable item drop-down menu.

The glow of headlights and brake lights has been improved.
Now, after reaching rank 11 with the Scavengers faction, you are given 2 pieces of 'Quarter wall'.

For players who already have rank 11 with Scavengers, the parts will also be issued.

Added the effect of Mandrake shells falling into acid.
Bug fixes
Fixed a bug with displacement of the aiming point when zooming with scopes.
Fixed errors on several maps:

Garage.
Rock City.
Power Plant.
Fortress.
Factory.
Dead Highway.
Bridge.
Wrath of Khan.
Old Town.
Ship graveyard.
Founders Canyon.
Two Turrets.
Eastern Array.
Terminal-45.
Lost Coast.

Fixed a bug where the reward for Leviathan could come without the Leviathan itself.
Fixed a bug where parts for upgrades were offered depending on the presence / absence of a customization kit on the upgraded part.
AI behaviour with grenade launchers has been improved.
Improved display of current targets in Raids, they no longer overlap with the target objects.
Fixed a bug with several horns after destroying one of them.
Fixed a bug in accounting for destroyed machines when using multiple drones.
'Spike-1' colour has been fixed.
Fixed a bug with scopes when used together with drones.
Fixed a bug where the car could deal too little damage to the surrounding targets during self-destruction.
Fixed a bug with invisible 'Mammoth' shells.
Fixed a bug with shield effects visibility with the invisible module activated.
Fixed a bug where the unique perks of 'Hammerfall' and 'AGS-55' worked on allies.
Collision model of the plasma gun 'Quasar' is improved.
Improved sound in voice chat.
Fixed a bug with showing the progress of seasonal missions.
Fixed a bug displaying some images in the debriefing window.
Improved context menu for quick sale of resources.
Fixed a bug with the number of tracked parts.
Fixed a bug with infinite hover upwards flight.
---
Hotfix#1:
Fixed a bug with inability to take correct screenshots
Fixed a minimum amount of score requied to get an award in a "Witch Hunt" brawl (players need to hold the baloons for at least 5 seconds).
Small interface improvements
---
Hotfix#2:
Fixed the bug with falling through the map;
Fixed a number of in - game texts;
Improved client stability.
---
Hotfix#3:
Fixed spawn points on the "Sector EX" map;
Improved client stability
---