Last chance to purchase the "Iron shield pack!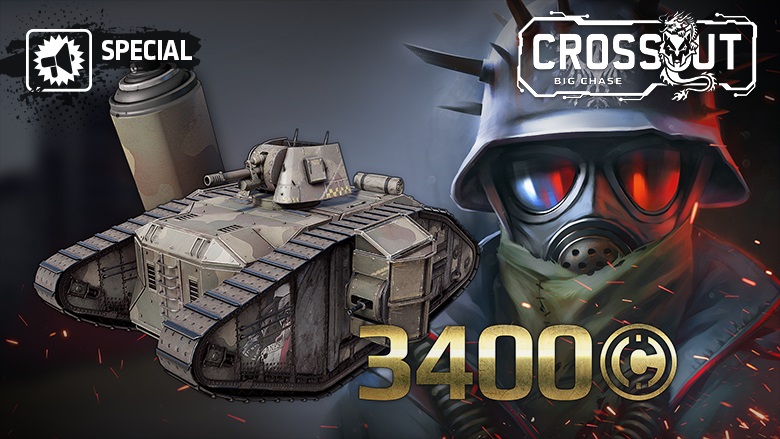 Hello, survivors!
This week we start the final countdown till the "Iron shield" pack becomes unavailable on PC. Hurry up and get your own Lieutenant Mitchell's tank with unique "Goliath" tracks, the "Solomon's pattern" paint can and 3400 coins with a final 60% discount on the official Gaijin store!
Attention! This special is for PC only and will be active from September 27, 12:00 GMT, to October 4, 16:00 GMT. Once the special is over, the pack will no longer be available for purchase on the Gaijin store and Steam.
Iron shield
Unique vehicle blueprint: «Mark EX»;
2 frontal "ST-M23 Defender" machine guns and an epic "ZS-34 Fat Man" turret cannon;
2 unique epic "Goliath" tracks;
Character portrait: "Lieutenant Mitchell";
Unique paint can: "Solomon's pattern";
Maximum number of parts increased to 55;
"Dogs of war" sticker;
3400 in-game coins.
A repaired and modified model of the first tank used in combat operations. True, this machine was never on the battlefield — it got stuck in the swamp and never reached the intended position. But that's why the tank survived and later became a proud museum exhibit, which was taken care of by more than one generation of wardens. The last of them, Mitchell, was very pedantic in his work with the machine and kept it working right up to the very catastrophe.
And in these tragic days for mankind the painstaking work of the warden paid off handsomely when Mitchell hid his family in the cockpit of the tank and rode it out of the chaotic agony of the city.
For some time the family wandered through the wild Wasteland and eventually settled in the Valley. Old man Mitchell made several trips to the cities on his faithful Mark EX, and died right behind its levers, after a successful rescue expedition.
Impressed with his grandfather's example, young Mitchell put on an old helmet, hiding his face and continued his work. Lieutenant Mitchell has been taking civilians out of combat zones for several decades. He never attacks first, but quickly suppresses any attempts to stop him.