The packs "Corrida" and "Adrenaline: Deluxe edition" are temporarily available for crosscrowns!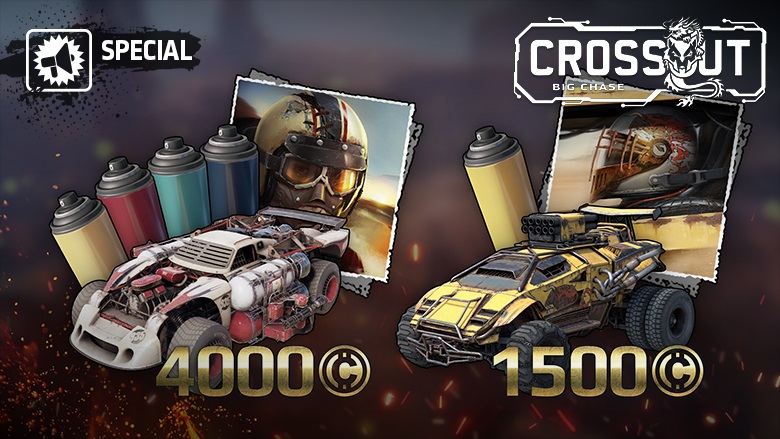 Hello, survivors!
This week we are launching a double promotion! 2 packs will be available in the store for crosscrowns: "Corrida" and "Adrenaline: Deluxe edition". Both sets are available to everyone without exception (even if you have already purchased these packs before). And as a gift, each of them comes with 3 days of premium subscription, which will help the survivors in the adventures in the world of Crossout.
Attention! The offer is valid from September 6, 12:00 GMT, until September 11, 23:59 GMT.
The packs can be purchased with crosscrowns on all platforms. Even if you have previously purchased the pack on your platform's store, you can re-acquire it for crosscrowns. In this case, you will receive all those items that can be issued again. When purchasing these packs for crosscrowns, each player receives 3 days of premium subscription as a gift.
Corrida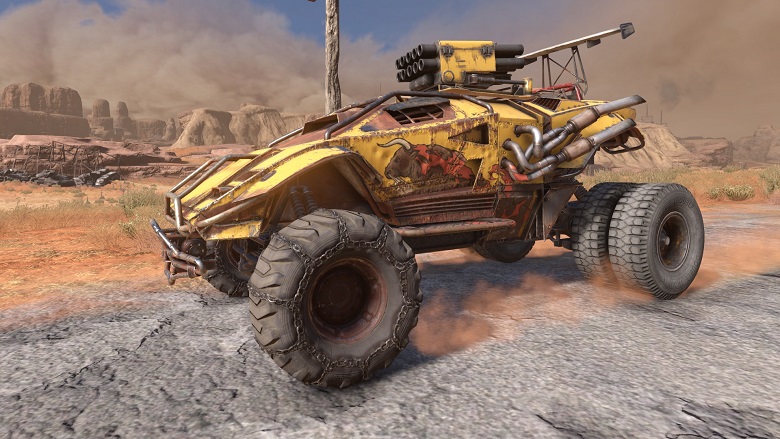 Unique armoured car "Corrida";
Unique cabin: "Torero";
Weapons: "Cricket 1M";
Character portrait "Jose Ortega";
Unique decor: "Muleta Wing", "Corno Destro", "Corno Sinistro";
Sticker: "Mad bull";
Unique paint can: "Eldorado";
Maximum number of parts increased to 55.
1500 in-game coins.
Jose was always distinguished by a sharp sense of justice and an explosive personality. It has never made life easier for him, but he has learned to use any advantages in the fight against a stronger and more numerous enemy. And run very fast.
So he grew up in an orphanage, fighting bullies, protecting the signed poster of his favourite bullfighter, and secretly dreaming of a supercar. For him, the global disaster only became an excuse to escape from the old shelter-like building similar to a prison. It even made some things easier. When, in the midst of the Crossout nightmare, he saw an abandoned tractor transporting exhibits to a car dealership, he did not hesitate a second.
This is how Jose got his first car. Then his Corrida was upgraded and patched so many times that it is now difficult to determine which car gave her its genes.
But it's still a supercar, although adapted to life in the Wasteland and deadly clashes with a stronger and more numerous enemy. And it's very fast.
Adrenaline (Deluxe edition)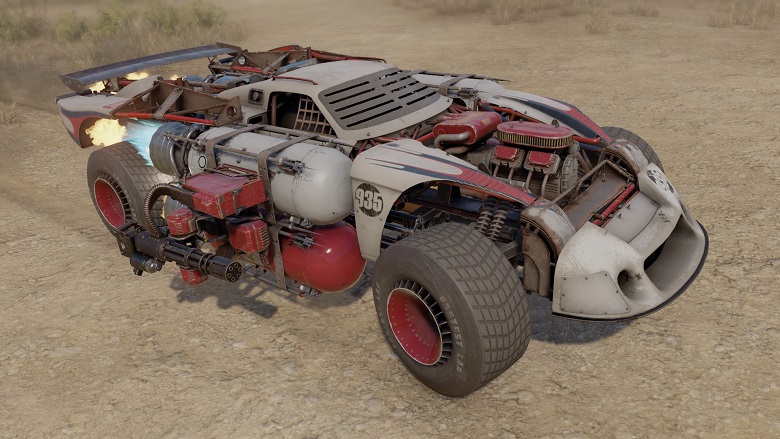 Unique armoured car: "Moby 935".
Unique epic cabin "Cockpit";
Weapon: epic machine gun "MG13 Equalizer" (2 pcs.);
Unique character portrait "Jacques Kremer".;
Rare "Chained wheel" (4 pcs.) with unique CK "Fast lap";
Rare booster "Blastoff" (6 pcs.) with unique CK "Slipstream";
4000 in-game coins;
Unique background and logo for profile customization;
Unique decor "Spoiler" and a set of unique stickers;
4 paint cans:

Cyan gloss;
Blue gloss;
Carmine gloss;
Pale yellow gloss;

Early access to structural parts of the racing car;
Maximum number of parts increased to 55.
Jacques Kremer was a promising test pilot. He worked in the sports team of a car manufacturer engaged in serious special machinery, and raced more for the sake of advertising, although he had great success. Jacques dreamed of podiums and dizzying speeds, he wanted to break into motorsport, see the world and give it a good shake. But the end of the world cut his plans short.
Having lost all hope, he wandered for many years and barely survived. But one day he learned about the races held in the Valley, and the old dream burned inside him with renewed vigour. Jacques returned home, found like-minded people among old colleagues, and together they breathed new life into the legendary "Moby 935". The world again heard the roar of its engine, announcing that even after the end of the world people did not stop dreaming.