The "Penalty" pack is temporarily available in the in-game store!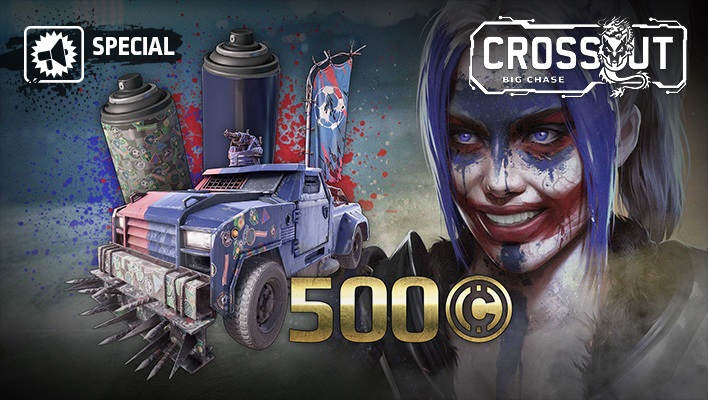 Hello, survivors!
We continue to prepare for the main event of August in Crossout! The "Penalty" pack is already available for everyone who wants to expand their range of thematic armoured vehicles, get a unique portrait and decor, as well as the "Low clearance" wheels!
Attention! The "Penalty" pack will only be available in the in-game store and only for crosscrowns from 12:00 GMT on July 28 until August 1 at 23:59 GMT!
Crossout — Penalty
Blueprint: "Cheerleader armoured car";
Unique wheel "Low Clearance" (4 pcs.);
Portrait: "Paris";
Unique paint cans: "Noble blue" and "Shades of victory";
Flag "Steel Championship 2051";
Unique background and logo for profile customization;
A set of stickers;
500 in-game coins;
Increases the maximum number of parts used to 50.
Paris is Hector's sister, who is by no means inferior to him in his love of competition and far superior to him in her passion for explosions and destruction. Their paths split a long time ago when the girl joined Psycho Pete's gang. Deadly fights on the arenas, which the Lunatics regularly organized, appealed to her taste.
When Scar AB organized the "Steel Championship" with the help of her brother, Paris became obsessed with the idea of getting there. Alas, but Hector, knowing the explosive character of his sister, did everything to keep her away from the stadium. And he even succeeded. Until this year.
The girl arrived with other invited Lunatics in a pickup truck, assembled specifically for this purpose. To Hector's displeasure, she was appointed the second commentator of the "Steel Championship" the rules of which had become much more dangerous.