The pack "Horsemen of Apocalypse: Pestilence - Deluxe edition" is temporarily available with a discount!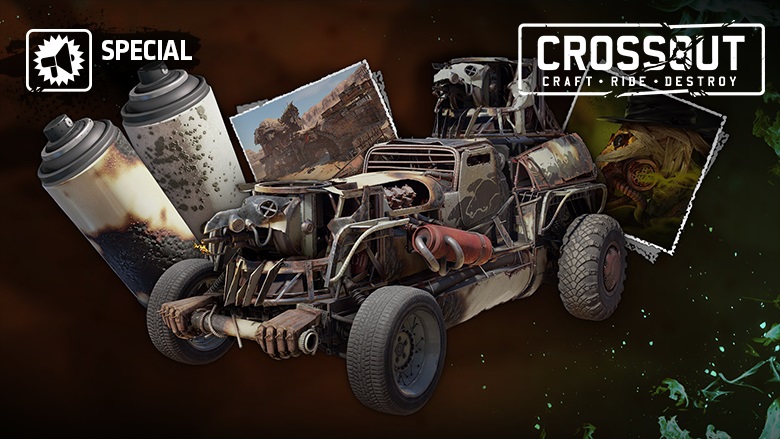 Hello!
This week we plan to release a special update dedicated to the anniversary of Crossout. But, in order to brighten up the expectation, the first promotion will be launched right now!
Today we offer you an elite version of the "Pestilence", one of the most popular packs among survivors. Unique cabin and flamethrowers, CKs and paints, a portrait and banner elements, and, of course, the magnificent garage of the Horsemen — all this is available right now and with a nice discount.
Attention! The pack will be available for purchase from May 17 at 12:00 GMT until May 21 at 17:00 GMT. The offer will be available on all platforms only in the in-game store and only for crosscrowns.
All players who buy the pack get a unique garage of The Four Horsemen as a gift!
Unique armoured car: "Pestilence Machine";
Unique epic flamethrower "Remedy" (2 pcs.)
Epic cabin "Blight";
Unique portrait "Marina Pokrovskaya";
4000 in-game coins.
Additionally, the player receives:
Unique background and logo for profile customization;
Structural parts of "Pestilence";
CK "Black Death" for the flamethrower "Remedy";
CK "Host" for the wheels "Landing gear";
Decor "Ague" (left and right);
Brake lights "Fever" (4 pcs.);
A set of stickers;
Paint cans "Heat" and "Strain";
Maximum number of parts increased to 55.
Marina Pokrovskaya does not like her nickname. It reminds her of the darkest days of the Horsemen of Apocalypse and evokes a burning longing.
Once upon a time, several dozen people were locked in a Waderkvarn bunker and survived the end of the world and the cruel betrayal of their own kind. But the story of Pestilence is not about that. Of course, she also played an important role in the formation of the gang, like the other horsemen. But her wit and knowledge really came in handy when, after all the misfortunes, a plague came to the test site.
Medicine was the first resource to run dry. And what was found in the neighbouring cities did not last long. Marina tried all possible means, but the disease spread too quickly, people panicked and carried it further. The epidemic was inevitable. To curb its spread, Marina had only one remedy left. Fire…
The disease has not returned for many years. And the once-inexperienced emergency doctor who saved the life of Victor Pyrrhus, was reborn from the ashes and received a new name — Pestilence. Now the horsewoman supplies the gang with provisions, patches up the wounds of her own and the others. And when pestilence swallows their lands again, her hand on the flamethrower will not flinch.
Please note that if you have previously purchased the deluxe edition of the "Pestilence" pack, then some of its components can be re-issued, and others (such as structural parts, portrait and banner elements) will not be issued again.