The pack "Frostburn" is temporarily available with a 40% discount!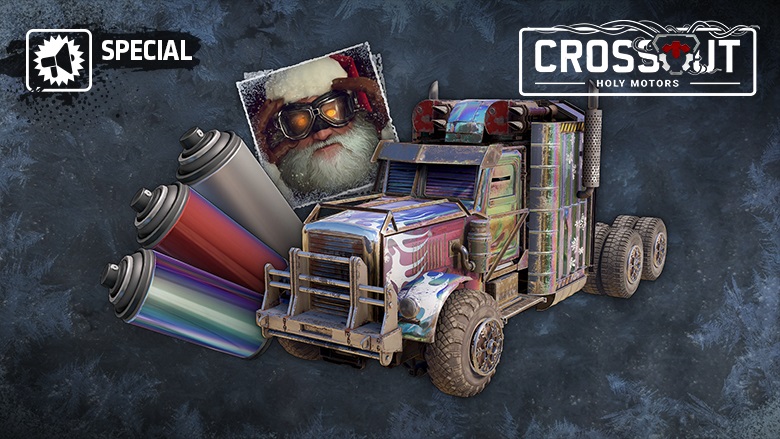 Hello, survivors!
Starting today and only for a week, the deluxe edition of the "Frostburn" pack returns to the Wasteland. Always wanted to get the unique "Locust" rocket launcher? Or the rare "Snowflake" hubcap? Or maybe a valuable paint "Ice Crystal"? Then don't miss this chance!
Attention! The pack will be available for purchase only until January 12, 23:59 GMT! The pack can be purchased with crosscrowns in the in-game store.
The pack includes:
Unique deluxe version of armoured car "Icebreaker";
Epic rocket launcher "Locust" (2 pcs.);
Hubcap "Snowflake";
Unique paint "Ice crystal";
Hologram "Harness XXI";
4000 in-game coins.
Additionally, the player receives:
Cabin: "Icebox" of epic rarity;
New Year stickers;
Unique character portrait "Jack Frost";
Paint cans: "Cold flame", "Material: Aluminium";
Maximum number of parts increased to 55.
Jack is one of the last representatives of the Frost sect — a small closed commune, that held its cold rituals even before the disaster. A few years ago, the sect ceased to exist — one of its own could not stand the stress and burned down his native village. Nobody knows who it was, so the remaining Frost survivors are hunting each other.
As if redeeming some crimes, Jack is trying very hard to be kind to ordinary people and give them presents: maybe it's a raider's head, or perhaps a necklace made of teeth.
But both children and adults shy away from him for some reason. So Jack has to travel through the wasteland, in search of those he could make happy.