The pack "Assault Force: Tango-1 - Deluxe edition" is available at a discount!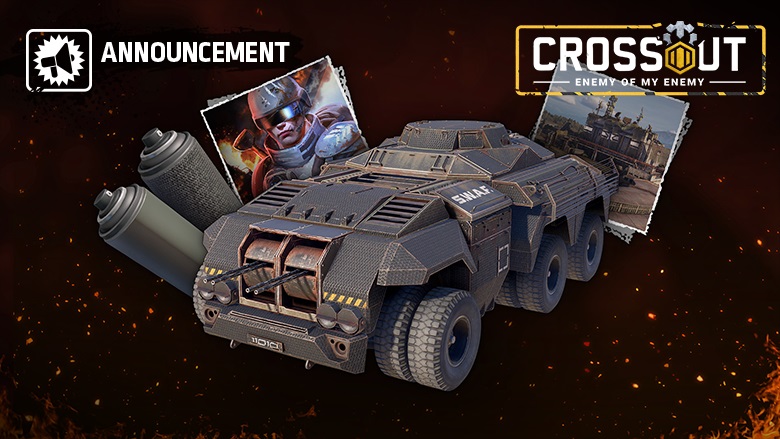 An elite bundle dedicated to the Assault squad member, codenamed "Tango-1" is back in the Wasteland! Don't miss out on this temporary offer to get a unique armoured car and the Assault Force garage with a 30% discount!
Crossout — Assault Force: Tango-1 (Deluxe edition)
All players who buy the pack get a garage of the Assault Force as a gift!
Unique armoured car "WLP":
Weapons: unique epic minelayer "King", epic machine gun "ST-M26 Tackler" (2 pcs.);
Epic cabin "Quantum";
Unique character portrait "Tango-1";
Unique paint cans "Dark green" and "Ceramic armor";
4000 in-game coins.
Additionally, the player receives:
Unique background and logo for profile customization;
A set of unique decor;
A set of stickers;
Early access to the "WLP" structural parts.
Increases the maximum number of parts used to 57.
Personal file No. 11010
Rank: Sergeant
Operation call sign: Tango-1
Specialization: installation and clearance of mines, missiles, shells
Due for military service in 2045.
Evaluation:
In addition to his main specialization, Tango-1 possesses the following skills: securing river and marshland crossings, digging up defensive structures, and establishing supply lines. Has an analytical mind, good memory and coordination. Scrupulous, executive and shows extreme loyalty to the unit.
Recommended for assignment to Operation "Return".
Please note: the offer is valid from October 13, 13:00 GMT, to October 18, 17:00 GMT!
The pack can be purchased with crosscrowns on all platforms. Even if you have previously purchased the pack in your platform's store, you can re-acquire it for crosscrowns. In this case, you will receive all those items that can be issued again. When purchasing the pack for crosscrowns, each player receives 3 days of premium subscription as a gift.