The pack "No to War" with a 40% discount and a week of premium subscription as a gift!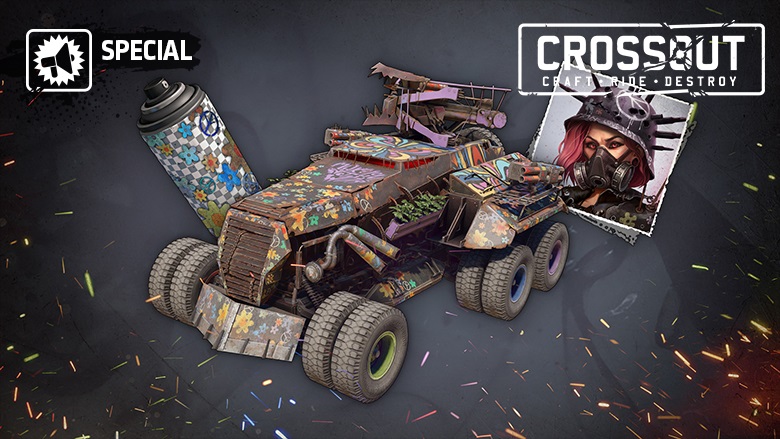 The "Peace machine" with Blithe Bonnie returns to the Wasteland as a part of a special offer! When purchasing the unique thematic pack with a discount, you also receive a 1-week premium subscription to your account as a gift.
Don't miss this opportunity! The offer is available in the in-game store ("Packs" tab) only until the end of the week and only for crosscrowns. Even if you have previously purchased the "No to War" pack in Gaijin store or Steam, you can re-acquire it for crosscrowns.
We remind you that the "No to War" pack includes:
Unique armoured car "Peace machine";
Weapon: epic crossbow "Phoenix", course rocket "AT Wasp", 2 pcs. ;
Unique decor "Mobile harvest" (2 pcs.);
Unique paint can "Wasteland in bloom";
Character portrait "Blithe Bonnie";
1500 in-game coins.
Additionally, the player receives:
Epic cabin "Echo";
"Twin wheels" (6 pcs.);
Legendary decor "Furnace" (2 pcs.);
A set of unique stickers;
Maximum number of parts increased to 57.
One day, fate itself put a weapon in Bonnie's weak hands, but now she has taken it. Having spent many years on aimless wanderings in the Wasteland in search of a lover, she realized that it was time to stop and choose the path of good. Instead of broken hearts and shells, gracious deeds and flowers now remain behind her.
Bonnie realized that you should not waste your life searching for a soulmate. After all, each of us is complete from the very beginning.
The offer is available for all platforms (PC, PlayStation and Xbox) till September 12, 23:59 GMT.