New unique features of certain engines and new legendary parts production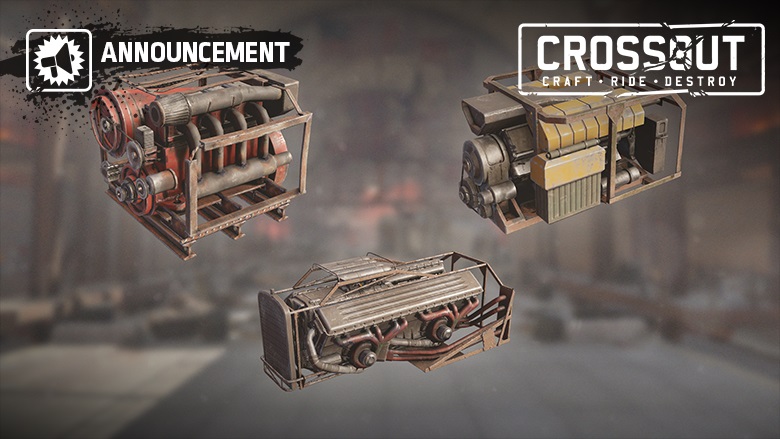 Hello!
Today we would like to share, which perks of the engines will be changed, how exactly they are going to be changed as well as clarify information on the production of legendary parts from the next season.
We remind you that all the new features described in the news are not final and may be changed before they are introduced into the game or may not make it into the game at all.
Perks of engines
As we mentioned earlier, with the next update it is planned to change the perks of certain engines. We'd like to note that this will not affect all epic engines: "Cheetah" and "Golden eagle" will preserve their perks unchanged. How will "Hot red", "Colossus" and "Oppressor" change?
Hot red
A new perk of this engine will make your armoured vehicle on wheels as mobile as possible: as long as the engine is not destroyed, the reverse speed of your vehicle will be 60% of its normal speed.
Colossus
The updated "Colossus" will definitely appeal to all fans of durable and reliable cars! Its new perk will increase the durability of all chassis mounted on the armoured vehicle by 20%.
Oppressor
The mechanics of the new perk for this engine will remain the same and will depend on your speed. But its effect will definitely appeal to all rotary weapons enthusiasts: at the speed of 80 km/h, the speed of weapons rotation will be increased by 100%.
Production of legendary parts of the new season
Previously, we announced that new legendary parts from the next season will only be available for production while the season is active. But this does not mean that the recipes for the production of these parts will be lost forever, and access to them will never be opened again.
We plan to return access to the production of these parts as a part of in-game events. This can be implemented, for example, through rewards for participating in an event. One thing is certain: in the future you will be able to get access to the production of these parts after the season ends.
---