A gift for purchasing a pack with an armoured vehicle!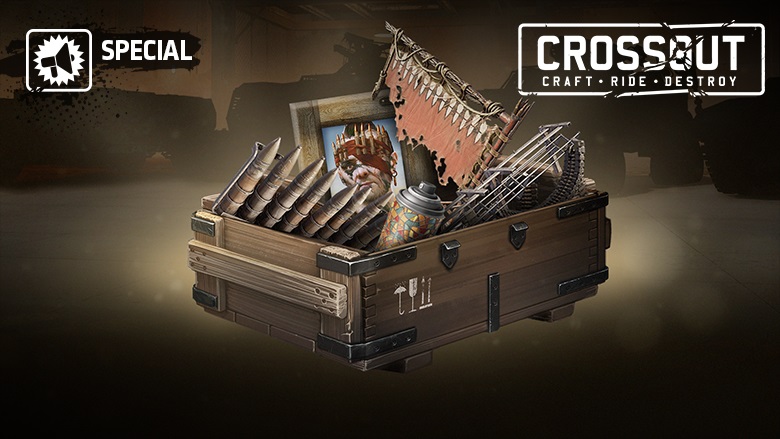 Hello!
This week we offer you to take part in an usual promotion. For the first time in Crossout you can get a unique pack as a gift for purchasing another pack!
How does it work?
The special is available for PC and will last from June 4, 10:00 GMT, until June 8, 23:59 GMT.
All packs with armoured vehicles with a price from 29.99$ and above participate in the promotion.*
During this special, for purchasing any pack with an armoured car with a price from 29.99$, you receive the "Lord of war" pack with a unique portrait, paint and decor as a gift!
You can receive the gift only once. If you purchase any second pack participating in the promotion, you will not receive the gift again.
If you have previously purchased the "Lord of war" pack separately, then the pack will not be received for the second time.
Have you been looking forward to buy a new car, but always postponed the decision "for later"? Or maybe you always wanted to get the "Lord of war" pack, but didn't get a chance to do it? Now is the time!
* A list of packs for the purchase of which a gift is given:
"Assault force: Bravo-6" (Deluxe edition) pack
"Assault force: Bravo-6" pack
"Phantom" pack
"Spectral hunter" pack
"Corrida" pack
"Arachnida" pack
"Triad: The Keeper" pack
"Horsemen of Apocalypse: Pestilence" pack
"Polymorph" pack
"Horsemen of Apocalypse: War" pack
"Assault force: Tango-1" pack
"Adrenaline" pack
"Horsemen of Apocalypse: Famine" pack
"Iron shield" pack
Inventor" pack
"Assault force: Charlie-7" pack
"Horsemen of Apocalypse: Death" pack
"Arsonist" pack
​​​​​​​"Horsemen of Apocalypse" bundle