Get early access on PlayStation today!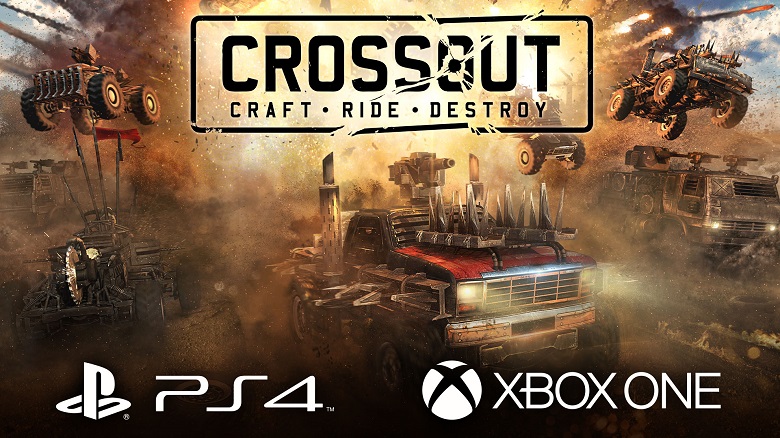 Targem Games and Gaijin Entertainment announce the imminent release of the post-apocalyptic MMO action game Crossout which will not only be released on PC, but also on PlayStation®4 and Xbox One. Starting May 16th, fans of the game can purchase one of the exclusive packs in the PlayStation®Store and get early access to Crossout on PlayStation®4.
---
CROSSOUT - 'Lavabird' Founder Pack

CROSSOUT - 'Armored turtle' Founder Pack

This bundle includes​:

Early game access;
Unique fast vehicle: 'Lavabird';
Weapon: 20 mm. AC43 Rapier cannon;
Unique character portrait: 'Air Shaman';
Paint cans: Material: Lava, Aluminum, Pattern: Lightning;
1500 in-game coins.

This bundle includes​:

Early game access;
Unique heavily-armored vehicle: 'Armored turtle';
Weapon: Executioner 88mm cannon;
Unique cabin 'Bear';
Unique character portrait: 'Survivor';
Spray cans: Pattern: Turtle, Digital desert, Mirage metallic;
4000 in-game coins.
---
On consoles, the concept and the plot of the game remains unchanged. Crossout is set in 2047 after a mysterious viral epidemic known as the 'Crossout' which has laid waste to most of the population on Earth. The road warriors that survived must now battle for precious resources using deadly vehicles crafted from millions of possible permutations (body shape, armour, weapons, support systems and cosmetic enhancements).
Survivors can test their creations in PvP and PvE modes in the most diverse corners of the post-apocalyptic world such as desert canyons, the outskirts of destroyed cities and the territories of abandoned factories. Advanced damage modeling affects vehicle performance. Parts fly off, engine blocks explode, wheels and roofs tear away and vehicles vaporize.The armored vehicle remains in battle, as long as the cabin is intact. In between battles, improve your vehicle in the garage or participate in speed racing on a specially designed track.
Also on the 30th of May, simultaneously with the start of OBT on PC, Crossout will be available for free on the PlayStation®4 and Xbox One consoles.
Do not miss the chance to become a part of the Crossout world!
---