[PC] Crossout 0.11.5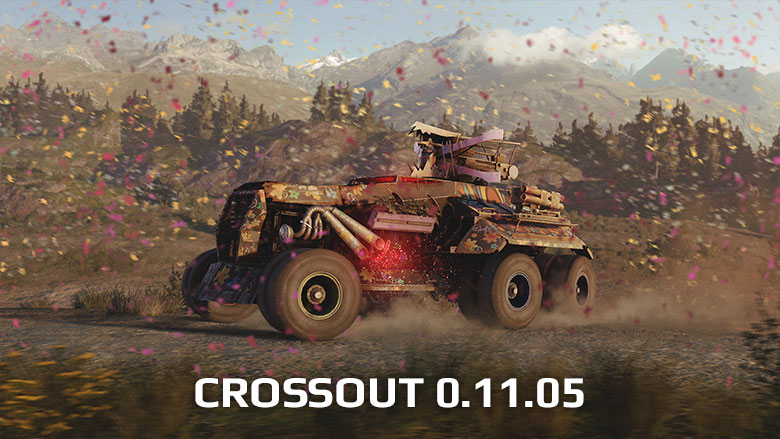 Happy February 14, survivors! This day is special even for the harsh inhabitants of the Wasteland. Take part in special challenges and get unique decor and themed hubcaps!

Challenges and thematic rewards for February 14
February 13-19:
Win 1 battle while in a group (raids and missions). Reward: "Purple fireworks" for 7 days.
Win 5 battles while in a group (raids and missions). Reward: unique decor "Bombastic bouquet".
Win 10 battles while in a group (raids and missions). Reward: Unique hubcap "Cupid".
Attention! The number of successful battles in one challenge is not taken into account in the progress of the next challenge. That is, if you completed the first challenge and won a battle in a group, then to complete the second challenge you need to earn five more victories in the group.
Crossout — "No to War"
Unique armoured car "Peace machine":
Weapon: epic crossbow "Phoenix", course rocket "AT Wasp", 2 pcs. ;
Unique decor "Mobile harvest" (2 pcs.);
Unique paint can "Wasteland in bloom";
Character portrait "Blithe Bonnie";
1500 in-game coins.
Additionally, the player gets:
Epic cabin "Echo";
"Twin wheels" (6 pcs.);
Legendary decor "Furnace" (2 pcs.);
A set of unique stickers;
Maximum number of parts increased to 57.
One day, fate itself put a weapon in Bonnie's weak hands, but now she has taken it. Having spent many years on aimless wanderings in the Wasteland in search of a lover, she realized that it was time to stop and choose the path of good. Instead of broken hearts and shells, gracious deeds and flowers now remain behind her.
Bonnie realized that you should not waste your life searching for a soulmate. After all, each of us is complete from the very beginning.
Attention! The pack "No to War" will be available for purchase until March 7!

Radar "Verifier"
Improved radar appearance.
Improved sound effects of the radar.

Fixed an issue where the order of upgrade description and the perk could change for different parts.
The projectile hit effects of the "Assembler" electric gun have been improved.
Fixed an issue with the incorrect upgrade to the maximum projectile flight time.
The issue with the broken upgrade "Number of launches +25%" for the "Barrier IX" turret has been fixed.
Fixed an issue with incorrect tasks in the trials "Uncategorized weapons: Professional" and "Wheel drones: Professional".
Improved a number of texts and descriptions.
---