New Year's greetings from survivors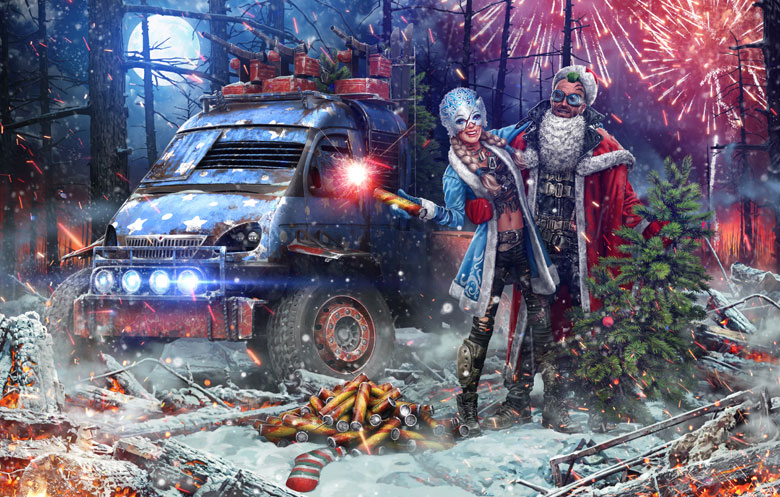 Less than two weeks are left before the New Year! Phew…2049 flew by in an instant, filled with vivid impressions. And none of these impressions would be complete without your allies — survivors just like you, looking for their place in the world that survived the disaster. Together we defeated countless enemies, beat all conceivable and inconceivable speed records in races, played tricks and won the Witch Hunt…And right now we are smashing Gronch's gang together. And rightly so, the New Year will not save itself, and we can't award the "Globeduck" to itself.
It's time to forget about arguments, thank each other and wish you happy upcoming holidays! Among all the authors, we will choose the 10 most original and creative entries and award their authors.
Conditions:
Write New Year's greetings for all survivors and share on VK or Facebook.
The format is not restricted at all. Character limit: 1000 characters with spaces.
You must include the tag #XOHappyNewYear in your greetings.
It can be accompanied by a screenshot from the game, a picture, an animated GIF image. You can use image editors. But the picture must be created by you!
Players from all platforms (PC, PS4 and Xbox One) can participate.
The entry should not contain offensive and Nazi symbols, references to forbidden groups and societies, as well as elements of erotic content.
Only one entry is accepted from each participant.
The players who publish someone else's entry will be excluded from participation.
By participating in the contest, you consent to the use of your work at our discretion.
Attention! Send your greetings before December 26, 06:00 GMT!
Rewards:
According to the jury, the 10 most original greetings will bring their authors 1000 coins and 7 days of premium subscription for the most carefree celebration in the Wasteland.
Among all the other participants, we will also randomly draw 20 codes for 3 days of premium subscription.
Good luck and inspiration to everyone! And happy upcoming holidays, survivors!
---