Crossout Calendar — December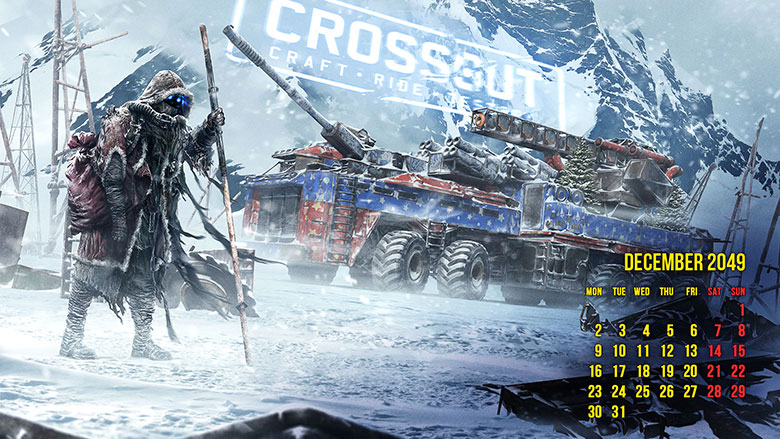 Hurray, survivors!
This is the final issue of the calendar this year. Let's flip it over to the December page and joyfully shout: "Hurray! We made it". Together we did a great job: you built amazing armoured cars and carefully selected the best ones, and we tried to create the most spectacular covers for you. Looking in the rearview mirror, we understand how cool it turned out, and we want to say thanks to everyone who took part in this. You are amazing!
Meanwhile, Gronch is already at the wheel of the tough 1219 Surprise, which the winner of the competition gave him. Our infamous villain is determined to recapture his armoured car from Lloyd. Because no one will stop him from ruining the holidays (except for you)! We wish Gronch luck and wait in the Valley to once again fight him over Christmas.
We wish you more crackers and fun. May the last month of 2049 be productive for you... No, fruitful!... Hmm, not that either. Let it be just the way you like it! Keep building awesome armoured vehicles, the Wasteland is always waiting for you (and we are too)! Happy upcoming holidays.
You can download December's Crossout calendar from the project's official website in the "Wallpapers" section.
---