[PC] Crossout 0.10.85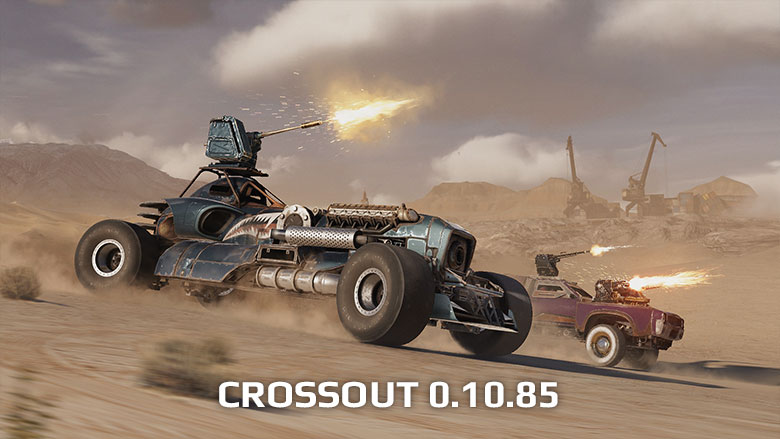 Survivors! In this update, you will find a new unique pack "Born Free," the updated "Clash of engineers" as well as important improvements to various elements of the game and bug fixes!
Crossout — Born Free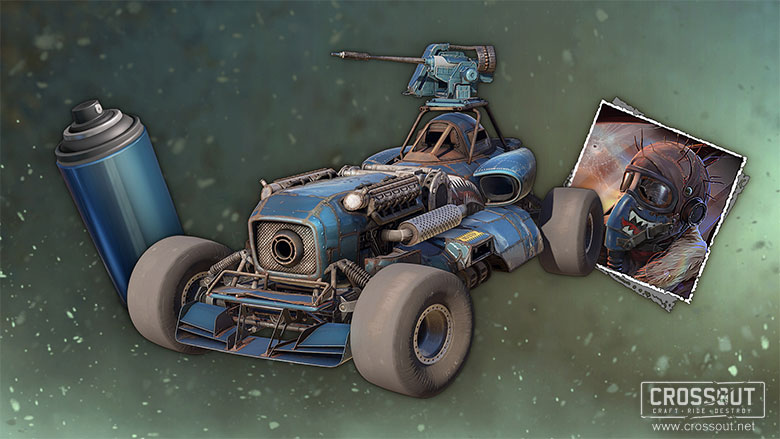 Armoured Car "Steel Fang":
Weapon: Epic autocannon "AC64 Joule".

PS: 940.
Durability: 180 pts.
Power consumption: 4 pts.
Weight: 240 kg.
Perk: "As movement speed increases, the heating of the weapon during shooting slows down. The maximum deceleration of heating is 25% at 80 km/h."

Unique portrait: "Cassidy"
Relic paint can: "Blue sky".
A pack of structural parts.
800 in-game coins.
Additionally, the player gets:
A set of unique stickers.
Increases the maximum number of parts used to 55.
Prior to Crossout, Alexander Cassidy worked as a janitor in a joint by a military airfield. He always believed that he was born free — that is, born to fly. But he failed to join the academy: poor health and poor test results interfered. Since then, day after day, cleaning up in a roadside cafe, he watched the beautiful and, most importantly, free planes take off and land.
Everything changed with Crossout. The disaster almost completely destroyed and emptied the airfield, and Alexander sneaked inside. The former janitor realized that the aircrafts would no longer fly, but he himself had also changed. Cassidy now knew that someone born to fly could fly without going up into the air. A fighter pilot's helmet became a symbol of this idea, and spare parts from aircraft came in handy when creating an armoured car. Now the survivor travels through the Wasteland with fellow nomads, embodying his dream — being free.

Clash of engineers
Now, at the voting stage, any player can report a blueprint, which in his opinion does not correspond to the task/theme of the contest or violates the rules of the game.
In order to leave a report, right-click on the blueprint and select "The blueprint does not comply with the rules!".
New protective measures have been added for those blueprints that do not comply with the rules of the contest
Note that Clash of engineers is post-moderated. This means that complaints can be processed after some time.
Structural parts
Now, with each new level of prestige in the "Nomads" faction, the player will get random structural parts from the following list (until all the parts are received):

Air splitter — 1 pc.
"Side air intake left" and "Side air intake right" — 1 pc. (both parts are given out for one level of prestige).

Thus, all structural parts can be obtained for 2 new prestige levels with the "Nomads" faction.
Attention! The parts are issued for each new level of prestige obtained after the update. Prestige levels received before the update are not counted, and the parts are not given for them.
If you purchased the "Born Free" pack, then with an increase in the level of prestige with the "Nomads" faction, additional structural parts will not be issued.

Fixed a bug where teams from the same clan could meet in a clan battle.
Now, victories in the "Experiment" mode count towards the weekly challenge for 8 victories in missions, for which scrap is rewarded.
Fixed a bug in which a fully repaired part in the "Experiment" mode could continue to sparkle and smoke.
Fixed a bug associated with mounting frames when assembling an armoured car. Now frames cannot be welded to structural parts.
Fixed a bug where the chassis could be attached to structural parts and the cabin.
Improved a number of texts and descriptions.
---
Hotfix 10.10.19
Improved a number of texts and descriptions.
---
Hotfix 14.10.19
Improved a number of texts and descriptions.
---