Devblog: Vehicle Stats - with developer's answers
---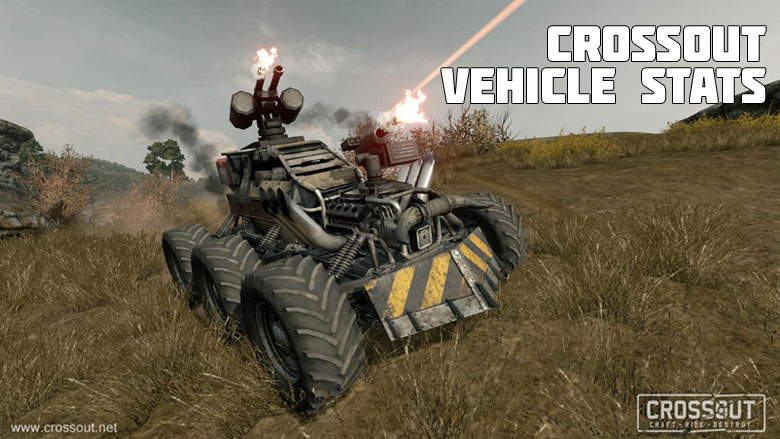 We continue sharing our developers diaries and accustoming you with game mechanics. Most games have some kind of unique feature, for Crossout, it is our vehicle constructor that lets you build a ride as powerful and appealing as it is. Today, we would like to talk about its stats and parameters, hardware availability, experience gain and more.
This screenshot shows 7 vehicle stats as they are shown in the current version of the game, note that the game is still in early development and thus everything you see is subject to change. Still, today we are going to look at the first 3 stats.
TEC level
The maximum allowed complexity (TEC) is one of the crucial stats, as it limits the number of parts you can mount onto your ride. Every part has a TEC value, representing its complexity and maintenance, no vehicle may be more complex than what your TEC level allows you to make and maintain.
Energy
Just like hardware, weapons need energy to operate. In the post-apocalyptic world, energy-efficient is the new alive, and thus you should keep an eye on your ride's energy balance. While mouse hovering over, it will show you how much energy your built-in and add-on generators produce, as well as how much your hardware requires. The screenshot below shows you a typical case of a high-production/high-consumption vehicle.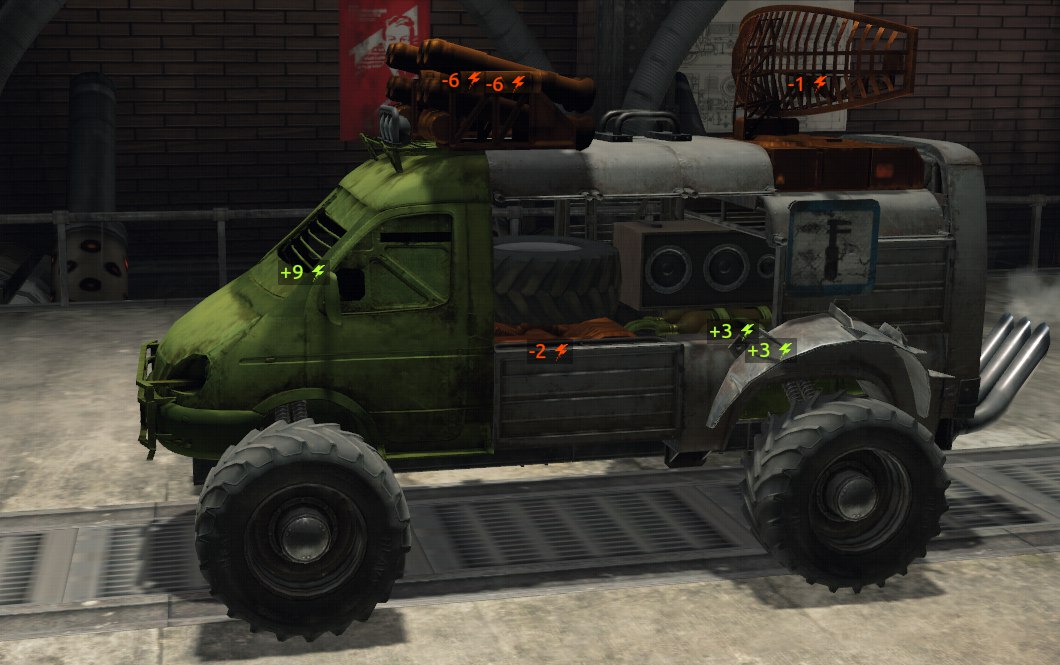 Structure
This value represents your ride's structural integrity. Every cabin has structure, some have more than others, there are parts that provide you more, but when it reaches zero you are as good as dead. Note: although you may have a lot of components that will make your ride more rigid, when your cabin is knocked out - you are instantly dead.
Next time, we will discuss mass and power mechanics, acceleration, parts condition and experience bonuses. Send your questions to the developers about the first three stats and get the answers to the most important ones. Note that your questions should be constructive and clear. The answers to the most interesting questions asked by readers will be published below.
Answers to readers' questions:
Will the max tech level of vehicles be unlocked through regular gameplay progression for all players equally, or will you try to monetize upon it, via p2w?​
The max TEC level will be unlocked through reaching new levels, we are not planning to monetize it. One of the most important goals of our team is to create a game which will give all our players an equal opportunity to progress through the game.
Will there be ways to recharge energy out in the field like random old cars left over from the apocalypse to raid or random things to find while out on PVE or PVP?
At this stage of development we are planning to add these mechanics into gameplay, but you can earn new parts as a reward for fighting in battles.
If your Engine is destroyed ingame, the car should be smoking and should even explode... you only need some energy for weapons or radar to work, if energy production item is smashed while also in game some weapons shouldn't operate. So the main reason to lose your machine, could be... destroyed engine, losing energy.
At the moment, damaged modules don't influence how other parts operate in battle. But it has to be said that some modules like generators after their destruction, explode and deal damage to all vehicles within a certain radius.
What is the maximum number of TEC points? Is there some other limit of the number of parts which we can use?
The maximum TEC is one of the most important limits of the parts that can be installed on a vehicle. It increases through leveling. There are several other limits like energy and weapon matching.