Developer Blog. Raid changes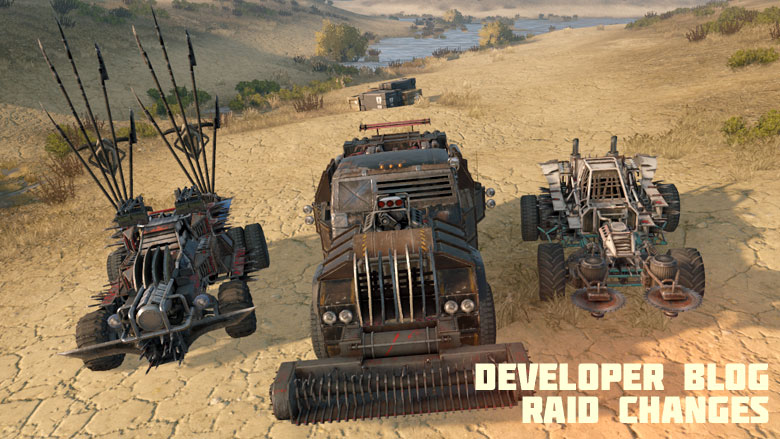 Welcome to all survivors in the Wasteland. Today we are ready to share the first details of raid changes that will appear in Crossout with one of the nearest updates.
Let us remind you that there are a number of raids in the game where you, along with other survivors, have to complete special tasks.
That's what we're going to start with. Now all armored vehicles fighting against you in missions, will better represent the advanced game factions. You have to face not just a group of enemy cars, but a separate faction from the world of Crossout.
The groups will differ both in the principle of building armored cars and in weapons and tactics.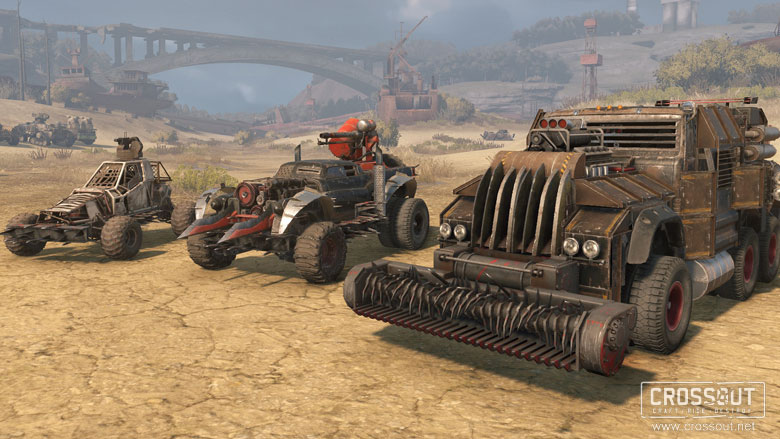 For example, Lunatic gangs mostly attack with small cars equipped with saws, shotguns or spears, and try to ram players. Their armored cars are rather weak, but there are many of them, and they are very dangerous. They have cars armed with missiles or lined with barrels and spears. However, the most dangerous opponents are armored cars with invisibility modules. Usually, such opponents are armed with shotguns, operate in a group and hunt the players with the smallest structure value. Leaders of Lunatic gangs often use very fast armored cars, equipped with boosters and harvesters.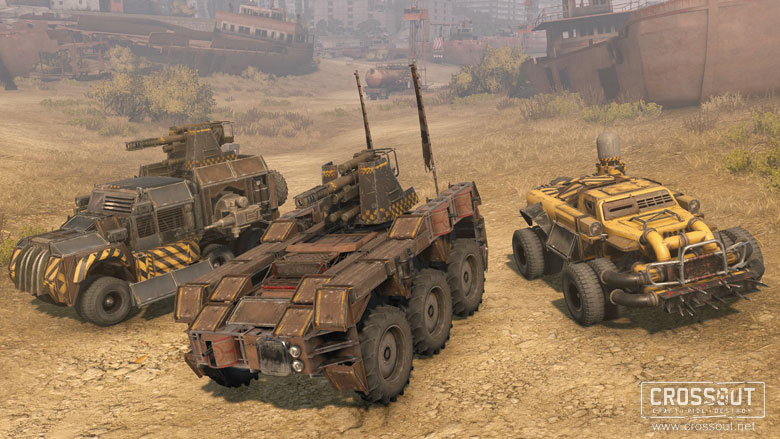 Scavenger gangs usually consist of cars equipped with bow machine guns 'Defender'. The cars are better protected than those of the Lunatics, and therefore more dangerous.
They have heavy trucks with static shotguns 'Spitfire' on two sides. Mostly they act in groups at long range.
Let's also note Scavenger vehicles, armed with homing missiles. This allows opponents to attack from the maximum possible distance. But the missiles are flying along a steep trajectory and they are quite possible to be shot down in flight. The leader of the Scavengers prefers the Mammoth cannon and frontal shotguns. He's very dangerous, since he can destroy a player with one shot.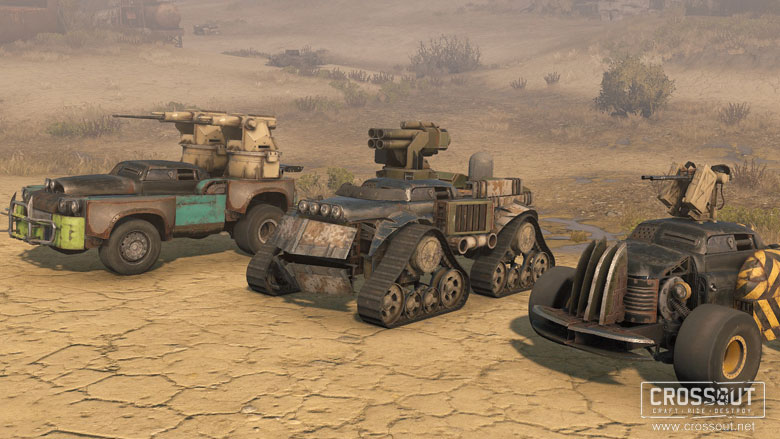 Nomads prefer small armored cars with machine guns and use them as cannon fodder. But they also have crafts with autocannons or miniguns. A weak spot of such a car is its generator.
Some Nomads also love drones and invisibility. Usually, such cars try to stay away from players and attack from afar.
Nomad leaders use armored vehicles equipped with homing missiles. One volley can contain from 8 to 12 missiles, that attack all players within range.
Sometimes the leaders take special armored cars and, hiding in invisibility, can call for light cars with machine guns. In the meantime, they hide and exhaust the survivors with waves of enemies. Look for such leaders in secluded places.
New Raid 'Counterattack'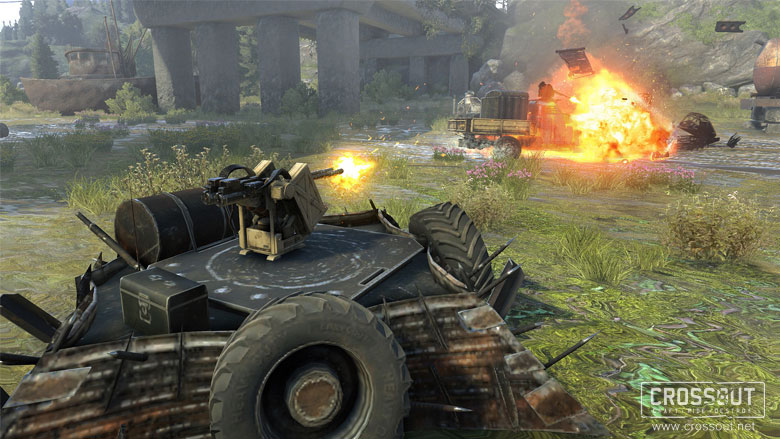 Survivor! An advanced Raider detachment captured a strategically important mining station, and reinforcements are coming soon. We urgently need to take the object from the enemy and hold the position until our main forces arrive.
You can't do it alone, so take your trusted partners with you! Carefully, the raiders have already installed automatic turrets around the tower. Fortunately, this defence system is primitive enough, it can easily be repaired and then used against the Raiders themselves! But first you will have to get dangerously close and destroy them.
Free mode ('No holds barred')
In order to win battles, you need to build the most effective armored car. For this purpose, we have created the new mode 'No holds barred', which you can enter from the world map (an icon in the shape of knuckles).
In this mode, you can test your armored car in real conditions against other players, while not completing any tasks. Everyone fights for himself or you can join the game with friends in a group. In this case, you do not receive a reward, but you can respawn an infinite number of times. There is no matchmaking system in this mode — it is designed for testing armored vehicles and practicing various tactics.
'Training' mission
During training in close to combat conditions, the Engineers fight against battle-worn cars with remote control modules. Only the particularly 'distinguished' Engineers are sent to control such cars remotely as an educational measure. Perhaps, that's why they do not spare their opponents at all, while they serve their sentence in training. But after the disaster, for drivers who want to improve their skills or try out a new armored car, this is the best alternative to fighting a real opponent.
New music
We are adding new tracks with one of the nearest updates. We already gave you a sneak peek at some of them. You can listen to them in Crossout communities on social networks or on the site.
And today we premiere a brand new track 'Motorhead'!
New map 'Refinery'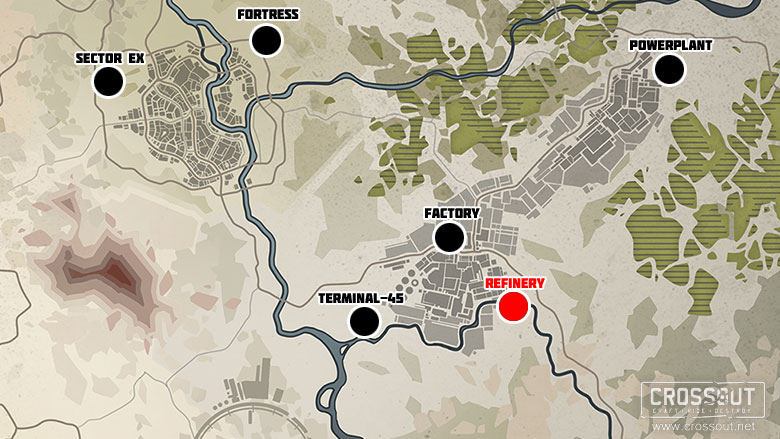 After an old accident at the chemical plant, considerable areas around it became uninhabitable due to soil contamination. Only desperate brave souls and those who had nowhere to go, decided to settle in these places. Scavengers spent several years undisturbed scrapping the armored walls of the chemical plant's workshops on the southern border of the contamination zone, and even managed to convert a couple of machines for their needs.

But everything changed when, during one of the expeditions to the contaminated zone, scouts found a large lake with the purest water, and at the bottom of the lake they found an artifact. When it was delivered to the plant, the soil and water around gradually began to lose harmful chemical impurities.

Such a change in the landscape caused great interest in this land among the raiders. After all, if you can turn acid into water, then maybe you could turn rocks into potatoes? Or fuel into water. And this is much-much better. Soon, despite the resistance of Scavengers, the base and the artifact itself were captured by raiders.

The map will be available only in the raid 'Heist'
We would like to remind you that all features described in the 'Developer blog' are not final and may be changed before they are introduced into the game or they may not make it into the final version at all.
---